Mark Wahlberg Made Over $1 Million More Than Michelle Williams For All the Money in the World Reshoots
Photo by Kevin Winter/Getty
Movies
News
Mark Wahlberg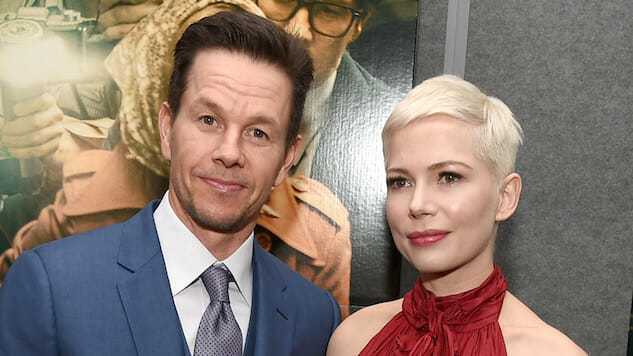 According to USA Today, after the movie All the Money in the World had to be quickly reshot, Mark Wahlberg was paid $1.5 million for that work, while Michelle Williams was paid less than $1,000 for same.
This means that Williams was being paid less than one percent of her male co-star's fee.
Ridley Scott's All the Money in the World had to be reshot the week of Thanksgiving after sexual misconduct allegations were made public against Kevin Spacey, who previously starred in the drama as billionaire J. Paul Getty. Scott reshot Spacey's scenes with Christopher Plummer in order to make the film's Christmas release window.
The reshoots cost $10 million and last month, Scott told USA Today that they pulled off this massive undertaking because "everyone did it for nothing." That statement now appears misinformed at best and deliberately dishonest at worst, as USA Today has since learned that Wahlberg's team negotiated a hefty fee for the reshoots, with the actor earning $1.5 million—however, Williams wasn't told. And on top of that, Wahlberg and Williams are represented by the same agency, William Morris Endeavor.
Williams previously told USA Today that when Scott's team called to request her time for the reshoot, "I said I'd be wherever they needed me, whenever they needed me. And they could have my salary, they could have my holiday, whatever they wanted. Because I appreciated so much that they were making this massive effort."
The drama has grossed $20.2 million since its release two weeks ago and Williams was nominated for a Golden Globe for her role in the film. It's a bit ironic that a production titled All the Money in the World could afford to pay Wahlberg $1.5 million, but could only manage to scrape together less than $1,000 for a big-name actress like Michelle Williams.
The Golden Globes on Sunday were dedicated to highlighting the issues surrounding Hollywood's toxic culture of sexism, sexual harassment and assault. However, it seems that as a result of these issues being highlighted, more stories like these have come out of the woodwork.
On the Golden Globes red carpet on Sunday, actress Debra Messing called out E! during a live interview with the network, criticizing them for not paying their female co-hosts the same as their male co-hosts. Since then, NBC Universal executive Frances Berwick has addressed the E! salary dispute, saying, "Our employees salaries are based on their roles and their expertise regardless of gender."
Unfortunately, it seems like just the beginning of these jaw-dropping cases of sexism.
Please go see Michelle's performance in All The Money in The World. She's a brilliant Oscar nominated Golden Globe winning actress. She has been in the industry for 20 yrs. She deserves more than 1% of her male costar' s salary. https://t.co/HIniew6lf7

— Jessica Chastain (@jes_chastain) January 10, 2018