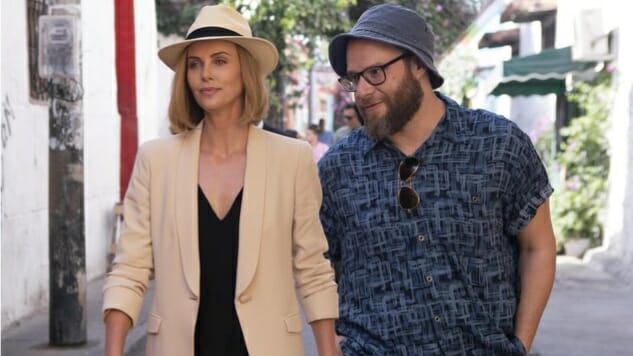 All romantic comedies ultimately rise or fall on one question: Do you buy the central couple? Chemistry is a determining factor, of course, but it's not the only one. Often, it's something more intangible, an innate belief on the audience's part that these two characters make sense together. You can't always put your finger on precisely what allows an onscreen couple to "work," but you definitely notice when they don't.
Long Shot has a few problems, but most critical is that I never entirely accepted its love story. To be sure, there's meant to be a little implausibility in this unlikely courtship between a beautiful, successful politician and a rumpled, unpolished writer, but the incompatibility goes deeper than those superficial concerns. Charlize Theron once again demonstrates her deftness as a comedic presence—funny, sexy, confident, up for anything—so the problem really comes down to her costar, Seth Rogen, who in recent years has shown a desire to branch out from his Knocked Up persona. He's been successful in everything from Take This Waltz to Neighbors, balancing maturity with humor. But in Long Shot, he's simply outclassed.
The film has a clever enough premise. Rogen plays Fred, a scrappy Brooklyn investigative journalist who likes exposing corruption and taking down big corporations. But after an evil right-wing conglomerate buys his independent newspaper, Fred sanctimoniously quits on principle, although he quickly realizes that being the big hero doesn't mean much when you have no money and few job prospects. As luck would have it, though, that night he goes to a swanky Manhattan party, where he runs into Charlotte (Theron), the United States Secretary of State. Everybody knows Charlotte from television, but Fred has a more personal connection: Back when they were kids, she was his babysitter, and he was already hopelessly smitten. His attraction led to an embarrassing incident that, typical of Long Shot, is vaguely funny, mildly shocking and somewhat underwhelming.
Back to the present: They get reacquainted, and she taps him to be her new speechwriter. Just as in childhood, the idealistic Charlotte has big ambitions. She knows that the clueless president (an underused Bob Odenkirk) won't be seeking a second term, leaving a lane open for her to run for the highest office in the land. If she can get enough countries to sign off on her sweeping environmental rehabilitation project, it will boost her approval ratings, making her White House bid a sure thing. In Fred, she sees a smart, snarky writer who can inject a little life into her stump speeches. And since Fred has nothing else going for him—and he remains captivated by her optimism and tenacity—he signs on.
Long Shot references Pretty Woman, but the Julia Roberts movie it most resembles is Notting Hill, in which a nobody (Hugh Grant) finds himself in a relationship with the world's most famous movie star. Directed by Jonathan Levine (who previously worked with Rogen on 50/50 and The Night Before), this new film makes the contrast between the male and female leads even more pronounced. Theron looks stunning throughout, a regal stateswoman who wields charm and intellect to navigate treacherous political waters, while Rogen is the constant punching bag. Fred is an outspoken liberal crusader who believes in the sanctity of his writing and has probably never worn a suit. And, as those around Charlotte often remind him, he's also kind of a schlub who lacks the decorum or handsomeness to be seen with her—especially when she's being courted by the hunky Canadian prime minister (Alexander Skarsgård, working a knowingly ludicrous Canuck accent).
But, of course, opposites attract—at the movies, at least—and slowly Charlotte begins to see something in Fred, the stress of the job and their close proximity conspiring to land them in bed. Ideally, this beauty-and-the-stoned-beast friction ought to lead to delightful laughs as these very different people discover in one another something they've longed for. But Levine never quite sells their bond, which too much relies on that hoary old rom-com narrative trope: Sure, she's gorgeous and brilliant, but she falls for this bozo because, gosh darn it, he's just so lovable.
Is he, though? Rogen has proven to be a convincing romantic lead—Knocked Up is a better version of Long Shot's exploration of a regular bro who dates way out of his league—but the character isn't particularly funny or interesting. Fred is meant to be a raging idealist—a champion of the little guy who wants to stick it to the man—and his introduction into Charlotte's world allows him a chance to see how power requires compromise, which he considers an abandonment of principles. The problem is that neither Rogen nor the film's writers (The Interview's Dan Sterling and The Post cowriter Liz Hannah) make his moral high horse especially hilarious—while Rogen's comedic trademarks, including copious pot jokes and pop-culture riffing, mostly feel uninspired, not to mention a little tired.
Then there's Theron. In the last five years, she's played everything from desperately exhausted mothers (Tully) to steely action heroes (Mad Max: Fury Road and Atomic Blonde) to droll, deadpan cowboys (the otherwise disposable A Million Ways to Die in the West). But if Fred is meant to be the mushy slob—the overgrown, naïve nerd who never got over Charlotte—her character, thankfully, is hardly prissy or humorless. Quite the contrary, Theron effortlessly segues from pathos to broad comedy, believably portraying one of the world's most powerful people but with a twinkle in her eye. The Oscar-winning actress understands the film's wobbly attempt to mix sincere political commentary with Boyz II Men gags, and she's a marvel at walking the line between comedy and drama. Not only is her character more impressive than Rogen's well-meaning dork, Charlotte's also cooler and funnier. No wonder Fred feels so inadequate around her.
If it's any consolation to Rogen, nobody in Long Shot's ensemble can match Theron's energy or wit. Buried in makeup, Andy Serkis plays a loathsome Rupert Murdoch type who's entirely too one-note—the more the character hangs around the margins, the more it becomes clear he's going to be a convenient plot obstacle down the road—while the usually reliable O'Shea Jackson Jr. is stuck in the mediocre role of being Fred's wisecracking pal. Outside of Theron, Long Shot's best asset is June Diane Raphael, wonderfully withering as Charlotte's chief of staff. Watching her cut Fred down to size—a task at which she's immensely talented—is one of this film's most consistently amusing highlights.
To be sure, Long Shot is largely about the challenges that driven women face—especially when they get into politics. Charlotte has to contend with sexism everywhere, so she appreciates the fact that Fred doesn't just love her but also respects her—even if his puppy-dog ineffectualness eventually grows tedious. The movie is a tribute not just to Charlotte but to stars like Charlize Theron, who have had to prove they're "serious actors" who shouldn't be pigeonholed because of their looks. Theron wrings this so-so material for all its comedic potential. But she gets little help from her running mate.
Grade: C
Director: Jonathan Levine
Writers: Dan Sterling and Liz Hannah (screenplay); Dan Sterling (story)
Starring: Seth Rogen, Charlize Theron, O'Shea Jackson Jr., Andy Serkis, June Diane Raphael, Bob Odenkirk, Alexander Skarsgård
Release Date: May 3, 2019
---
Tim Grierson is chief film critic for Paste and the vice president of the Los Angeles Film Critics Association. You can follow him on Twitter.
Grierson & Leitch write about the movies regularly and host a podcast on film. Follow them on Twitter or visit their site.