Watch the New Trailer for Long Shot, Starring Seth Rogen and Charlize Theron
Photo by Philippe Bossé
Movies
News
Long Shot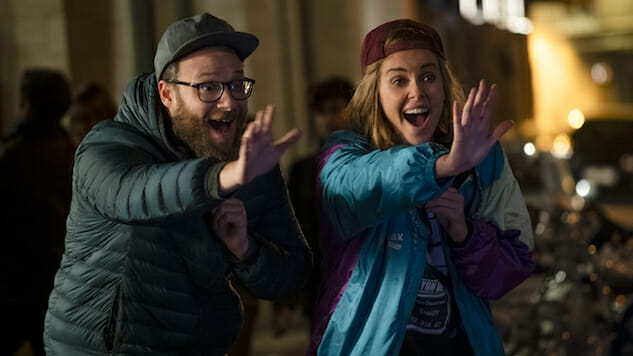 Seth Rogen and Charlize Theron premiered the trailer for their new film Long Shot during an appearance on The Ellen DeGeneres Show on Friday. The film follows Rogen as an unemployed journalist who attempts to woo his former babysitter Charlotte, played by Theron, who also happens to be the U.S. Secretary of State and preparing to run for president.
Long Shot was directed by Rogen's frequent collaborator Jonathan Levine, who also directed 50/50 and The Night Before. The cast is rounded out by performances from Bob Odenkirk, O'Shea Jackson Jr., June Diane Raphael, Ravi Patel, Andy Serkis, Alexander Skarsgard, Randall Park and Randy Orton. The project was titled Flarksy when it was first shopped around, after Rogen's character Fred Flarksy, but it was changed to Long Shot during development. During their appearance on Ellen, Rogen revealed that the project has been in the works for eight years.
Long Shot hits theaters May 3. Watch the full trailer below.