Lady Bird Is Now Rotten Tomatoes' Best-Reviewed Movie of All Time
Photo by Merrick Morton/A24
Movies
News
Lady Bird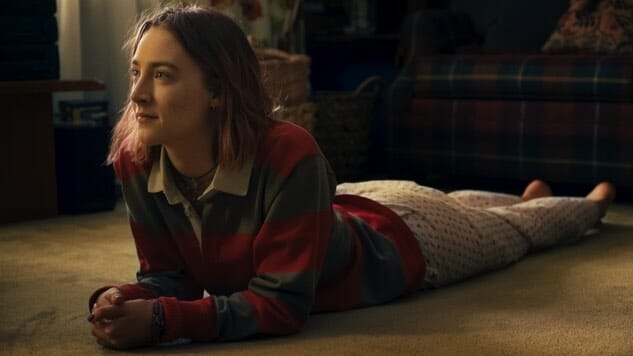 We don't know how to put this, but Lady Bird is kind of a big deal. People like it.
To wit, Greta Gerwig's directorial debut is now the best-reviewed movie ever on Rotten Tomatoes, per EW, topping a classic in Toy Story 2.
As of this writing, Lady Bird is "certified fresh" on Rotten Tomatoes with a 100 percent score made up of an astonishing 170 positive reviews and not a single negative one. Previous record-holder Toy Story 2 has a 100 percent score as well, but with "only" 163 positive reviews.
Since its Nov. 3 release, Lady Bird has made more than $10 million, despite having played in only 800 or so theaters nationwide. The film joins just five others that have earned a perfect Rotten Tomatoes score this year: Faces Places, Jane, The Happiest Day in the Life of Olli Mäki, Truman and Bright Lights.
"Lady Bird is nothing short of tremendous, a wise film about how two people deal with ambivalence," wrote Kyle Turner in his New York Film Festival review of the film for Paste. "Without lettings its strings show or veering into bald-faced sentimentality, Lady Bird breaks the heart and lifts the spirit in miraculous ways."
Here's A24's synopsis of the film in case you're unfamiliar:
Christine "Lady Bird" McPherson (Saoirse Ronan) fights against but is exactly like her wildly loving, deeply opinionated and strong-willed mom (Laurie Metcalf), a nurse working tirelessly to keep her family afloat after Lady Bird's father (Tracy Letts) loses his job. Set in Sacramento, California in 2002, amidst a rapidly shifting American economic landscape, Lady Bird is an affecting look at the relationships that shape us, the beliefs that define us, and the unmatched beauty of a place called home.
Read Paste's review of Lady Bird here, get Jim Vorel's take on the film's central mother-daughter relationship here and watch the trailer for the film below. You can also find out where it falls on our list of the best movies in theaters right now here.