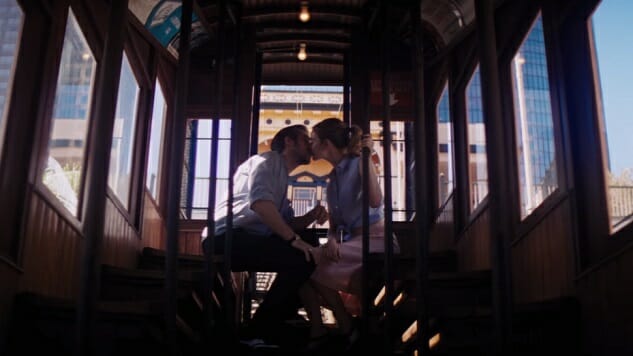 La La Land is one of the most anticipated films of the fall, and a new teaser trailer makes it clear why. The new musical from writer-director Damien Chazelle gives audiences another look inside the film and creates an incredibly evocative mood.
Chazelle, whose last film Whiplash was a sensational hit with both critics and audiences, has teamed up with Ryan Gosling and Emma Stone for his latest project. La La Land will follow Stone's Mia and Gosling's Sebastian as they attempt to find success in their careers while falling in love with one another.
This second teaser allows Stone to step up to the microphone as she sings "Audition," one of six completely original songs written for the film. It also gives us another look at the classic feel the film will have, complete with silhouettes and starlit dancing.
Although he is absent from both trailers, J.K. Simmons is also set to star in La La Land in a follow-up to his Oscar-winning performance in Chazelle's Whiplash. Simmons and Chazelle appear to be frequent collaborators, and the same can be said of Stone and Gosling. La La Land will mark the third film the pair star in together, following 2011's Crazy Stupid Love and 2013's Gangster Squad.
La La Land is set to premiere at the Venice Film Festival at the end of the month, but it doesn't hit theaters until Dec. 2. Until then, watch the first trailer here, and the new teaser above.