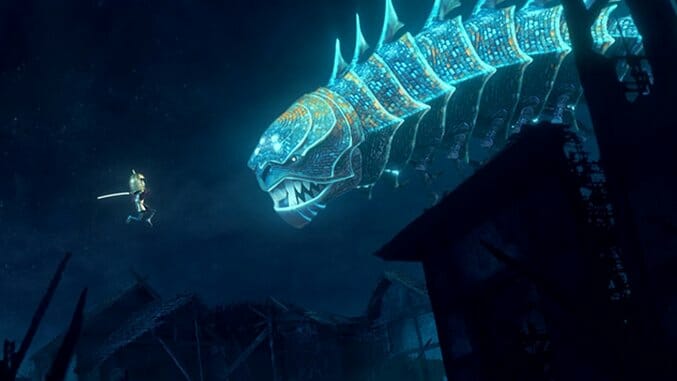 We tell our own stories. We make our own destinies. These are lessons well worth taking to heart in a summer movie season peppered with franchise initiates and sequels, with all kinds of cinema unwanted, unnecessary and uninspired: Ditch the pre-existing IPs, and tell a story that's original—or at least good.
Depending on your perspective, stop-motion animation studio Laika's latest effort, Kubo and the Two Strings, isn't entirely original—being based not on toy lines, comic books, or TV shows, instead on longstanding conventions of the cinematic form—but it is good, very good. Perhaps even great. If you want to get pedantic, it's absolutely original, too, no matter that it's a Saturday morning cartoon version of a 1960s chanbara flick.
Kubo and the Two Strings isn't spun from whole cloth: It's a prototypical hero's journey, and as a prototypical hero's journey it echoes other prototypical hero's journeys, notably Star Wars, which is as significant a touchstone for the film as any samurai or coming-of-age or adventure picture you can call to mind. But Kubo and the Two Strings' architect, Travis Knight, doesn't use the project to show off how many Japanese movies he's seen, or to catalogue his fondness for A New Hope. These are his influences, and Kubo and the Two Strings is proof of his deeply abiding love
We meet the title character (Art Parkinson) as an infant, sailing across a storm-tossed ocean with his mother. They're on the run, but we don't learn whom they're running from right away. We learn only that Kubo is missing his left eye and that he's a musical prodigy, though his talent for animating origami figures by strumming a shamisen (a Japanese three-string lute) qualifies as more than merely "prodigious." By day, Kubo enchants local villagers with his performed fable, which lays out the exploits of his late father, the mighty samurai Hanzo. At dusk he returns home to the cove in which he dwells with his mother, a woman possessed of mystical powers and stricken by a case of sometimes-catatonic amnesia. Kubo has inherited the stories he tells from her, plus the magic with which he tells them and a legacy that demands he stay inside during the night for safety's sake.
Most parents give their kids a curfew, but most kids aren't related to kabuki-masked wraiths and heartless lunar gods who want to murder them, either. Seems like good incentive for Kubo to listen to his mother, which he does until he doesn't. The minute he breaks mom's number one rule, Kubo endures the world's most unfortunate family reunion and undertakes the quest for his birthright, guarded along the way by an ill-tempered monkey and a flaky man-beetle-warrior, named, respectively, Monkey (Charlize Theron) and Beetle (Matthew McConaughey). Yes, fine, Kubo and the Two Strings doesn't go deep in the tank for character names. Big deal. The film funnels imagination into an Erlenmeyer flask where narrative reacts with aesthetic. It's a stunningly rendered adventure that treats style and substance as one and the same.
In a way, this is deceptive praise. Kubo and the Two Strings operates in much the same way as any other Laika movie does, by blending authentic sentimentality with equal parts dread, perception and excitement. It is often scary, like 2009's Coraline, though not quite as often or quite as much; it loves its genre elements, like 2012's ParaNorman; and it's so oriented toward engaging our senses that we feel as though we're bystanders on the set, like 2014's The Boxtrolls. In Laika's canon, it wouldn't be off base to describe Kubo and the Two Strings as "workaday." This, philosophically, is what we expect Laika films to be, and what we expect them to deliver on.
But Kubo and the Two Strings is distinguished first with tweaks on old themes and the introduction of new ones, and then with personality derived from its choice in setting. The film takes place in historical Japan, or, more accurately, a fantastical version of historical Japan, but it doesn't suffice to say that the backdrop alone gives Kubo and the Two Strings its unique identity. Knight and his team have embraced their backdrop to the fullest extent and beyond, approaching each piece of their mise en scène with a reverence that is at once hushed and pronounced. That speaks to the level of the film's refinement of craft, too: It's more tactile even than its predecessors. Catch a 3D screening and you'll instinctively reach out to touch the film's beautifully detailed backgrounds. (Maybe you'll shrink away from its array of supernatural hazards as well.) Kubo and the Two Strings is better than immersive—it's absorptive. We're pulled in Knight's direction; we become part of his studio's technical wizardry.
Couched within the film's visual flair is the familiar Laika motif of "family," but unlike its siblings, which focus on the union or reunion of family, Kubo and the Two Strings explores how we come to terms with saying goodbye. It's an entertainment that's both perfectly suited to the needs of the movie-going family, and a work of art devoted to bereavement, as well as the messy particulars of heritage. (Kubo's closest living blood relatives totally suck.) The film's advocacy for the power of storytelling, and of storytellers, is secondary to the questions it asks about what we owe our ancestors and what our ancestors owe us. Knight sees a kindred spirit in Kubo, but it's in Kubo's familial strife that the film discovers its soul.
The voice cast demands attention, too, both because each of the actors are terrific and because the principal cast's blinding whiteness clangs with the film's Japanese cultural and philosophical roots. We can't talk about Kubo and the Two Strings without talking about where it fits in our dialogue about Hollywood whitewashing, especially as Rupert Sanders' Ghost in the Shell and Zhang Yimou's The Great Wall, two recent lightning rods of social critique within said dialogue, crawl toward their 2017 U.S. release dates. Among the three, Kubo and the Two Strings comes out looking the best through the reverence it shows for its borrowed traditions, and also by virtue of animation's concealing veneer. But if whitewashing in animation is less immediately objectionable than in live action formats, it's equally as needless and twice as puzzling. (Hiring George Takei and Cary-Hiroyuki Tagawa sounds great on paper, until you see the film and realize that they each have, like, three lines between them. C'mon.)
But these very real concerns, bound up in a very real issue within the industry, don't hamper Kubo and the Two Strings' effect as cinema. Point blank, it's marvelous. Like the best myths, the film invites us to view common human experiences through a spectacular lens. It's a tale of monsters and heroes, swords and sorcery, legends brought to vivid life with a surplus of heart, where reckoning with grief is a more daunting feat than slaying a kraken.
Director: Travis Knight
Writer: Marc Haimes, Chris Butler
Starring: Art Parkinson, Charlize Theron, Matthew McConaughey, Rooney Mara, Ralph Fiennes, George Takei, Cary-Hiroyuki Tagawa
Release Date: August 19, 2016
---
Boston-based critic Andy Crump has been writing about film online since 2009, and has been contributing to Paste Magazine since 2013. He writes additional words for Movie Mezzanine, The Playlist and Birth. Movies. Death., and is a member of the Online Film Critics Society and the Boston Online Film Critics Association. You can follow him on Twitter and find his collected writing at his personal blog. He is composed of roughly 65% craft beer.