The King's Man Brings the Kingsman Series To a Darker, Grittier WWI Timeline in First Trailer
Movies
News
Kingsman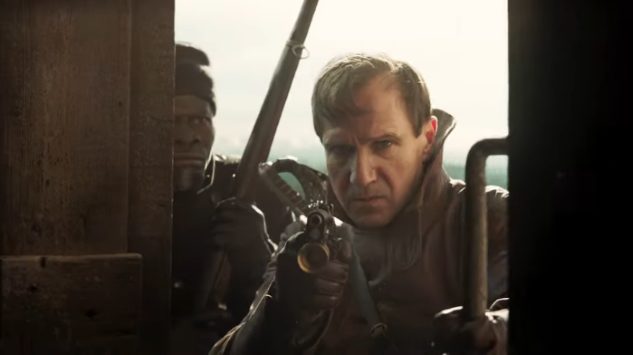 Kingsman: The Secret Service was a pleasant surprise when it first arrived in 2014, combining fish-out-of-water humor with a surprisingly visceral attitude toward action cinema, winning itself an immediate fan base in the process. 2017's Kingsman: The Golden Circle, on the other hand, lost some of those fans by overreaching and attempting to amp up literally everything that viewers appreciated about the first film. Given that less than warm reaction, it would seem that the upcoming third installment in the series, The King's Man, is trying to bring things back down to Earth a bit. Judging from the film's first trailer, which hit the web this morning, this is a considerably more grave and serious-minded Kingsman.
As well it probably should be, given the time period. This Kingsman seems to be occurring during the height of World War I, and was previously titled The Great Game. It's not clear if the story involves the actual founding of the Kingsman as a society, or merely an earlier version of them, but judging from his sonorous and dramatic narration, Ralph Fiennes' character is deeply involved. All we have in terms of a proper synopsis is the following: "As a collection of history's worst tyrants and criminal masterminds gather to plot a war to wipe out millions, one man must race against time to stop them."
It sounds like they're trying to say that World War I was the product of "a collection of history's worst tyrants and criminal masterminds," then? Regardless, the format of the film once again seems to see a veteran Kingsman initiating a younger servant into the flock, much like the first film. The impressive supporting cast includes Harris Dickinson, Liam Neeson, Daniel Brühl, Rhys Ifans, Gemma Arterton, Aaron Taylor-Johnson, Charles Dance, Matthew Goode, Tom Hollander, Djimon Hounsou, and Stanley Tucci.
As with the other two members of the series, The King's Man will once again be directed by Matthew Vaughn, and is still based on the original graphic novel series by Dave Gibbons and Mark Millar, although it seems like we've probably left the contents of those comics far in the rear view mirror by now.
The King's Man—would it not have been less confusing to just keep The Great Game as the title?—is scheduled to hit theaters on Feb. 14, 2020. Check out the first trailer and poster below.