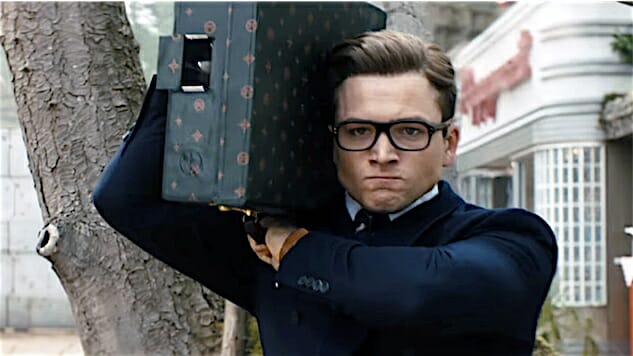 The third film in the Kingsman series appears to be headed in a new direction, and that news comes courtesy of the series central protagonist to date. Actor Taron Egerton, who rose to prominence playing Gary "Eggsy" Unwin in the first two films of the series, says he won't be back for the next installment. He let the news slip while promoting his upcoming Robin Hood, in which he stars as the titular outlaw.
"I'm not in the next Kingsman," said Egerton. When asked why, he responded, "I don't know if I'm allowed to tell you. That doesn't mean I won't be a Kingsman ever again. I was with Matthew [Vaughn] as little as a few days ago and spoke to him. We're very much still in business together, it's just that his next journey in that universe doesn't involve me. Which I think is SACRILEGIOUS!"
This would likely lend some credence to the reports that the next Kingsman film will function as a prequel of sorts, taking place in the early 20th century during World War I. That time frame would likely preclude even an appearance from Colin Firth as Harry Hart as well. According to IGN, "This rumored plot includes a teenager named Conrad who wishes to fight in World War I, as well as a character that may be played by Ralph Fiennes."
As we observed once before: Yeah, we can see that. Ralph Fiennes, in full-on Grand Budapest Hotel mode, would make a right proper Kingsman. Let's hope that writer-director Matthew Vaughn has already locked that particular bit of casting in place.
A release date of Nov. 8, 2019 has already apparently been set for the untitled film, which could be just one of several Kingsman projects in the pipeline, despite a lukewarm critical reaction to Kingsman: The Golden Circle. Vaughn has also reportedly been working on a reboot to Kick-Ass, so it's safe to say he's a busy guy between two similar fictional universes.
We'll bring you more concrete information on the next Kingsman once we have it.