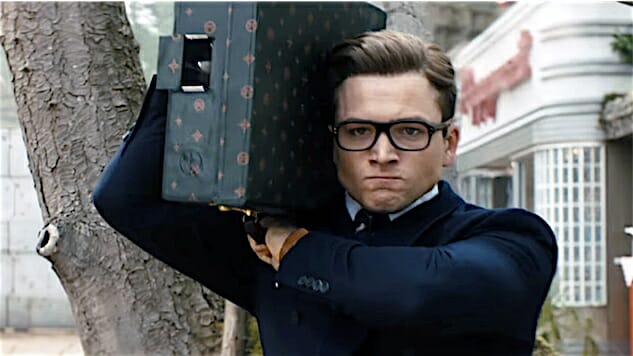 Despite a pretty tepid critical reaction to 2017's Kingsman: The Golden Circle after the warm reception that the first film received in 2014, director Matthew Vaughn is still pressing forward with an impressive slate of Kingsman-related properties. In addition to a proper Kingsman 3, which will wrap up the trilogy of "Harry Hart/Eggsy Unwin" movies, the director is simultaneously planning a prequel called Kingsman: The Great Game, a spin-off focused on the American Statesmen program, and a Kingsman TV series. Are you officially fed up with the concept yet?
According to a new exclusive via That Hashtag Show, the site reports that Vaughn is currently on the lookout for a new leading duo for the Kingsman universe, or at least for The Great Game, which would take place during World War I. These characters would likely be introduced during The Great Game, either as old men or (more likely) via flashbacks, as were occasionally used in The Golden Circle. The site reports:
One of those new leads will be a teen by the name of Conrad. The young, cocky and charming son of a British Duke, Conrad is eager to find a way to serve his country during World War I…and perhaps the Kingsman offer him just that opportunity. The studio is also looking to cast an older lead male and while no details about his character have been revealed, we do know that the Ralph Fiennes is near or at the top of the studios list.
As far as replacements for Colin Firth go, Ralph Fiennes would certainly be near the top of our own list as well. Just imagine his dapper character in The Grand Budapest Hotel, with a bit more physicality and willingness to snap a man's neck, and you're most of the way there.
We'd expect to receive plenty of narrative surprises in Kingsman 3, regardless—although one that wouldn't be a surprise to anyone would be the return of actress Sophie Cookson as Lancelot … if only because her death in The Golden Circle was so abrupt and unsatisfying that we can't really accept it as real.
More news on everything Kingsman-related as it breaks.