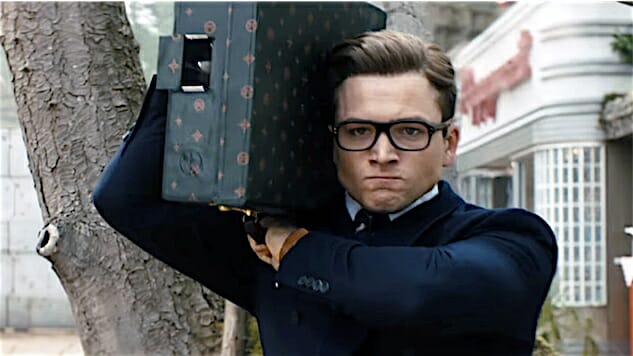 "Eh, that was okay, but not really as good as the original."
That was the reaction of most critics who watched last year's Kingsman: The Golden Circle from writer-director-producer Matthew Vaughn, but that's not stopping the filmmaker from committing to a rather ridiculous new slate of Kingsman-related material via his own Marv Studios. According to Empire, Vaughn is currently planning not only a third "regular" Kingsman film starring central characters Harry and Eggsy, but is also working on a spin-off called Kingsman: The Great Game that is set in the organization's beginnings in the early 1900s, plus a Statesman film that would follow the American branch of the organization, and the characters established by Channing Tatum, Jeff Bridges and Halle Berry. But wait, we're not done! Vaughn is ALSO reportedly working on an eight-hour Kingsman TV series as well, if you're not completely overwhelmed by the concept just yet.
In addition, Vaughn is also apparently hoping to return to one of his earlier projects, Kick-Ass, which was based on the Mark Millar comic of the same name. The Kick-Ass reboot doesn't sound very fleshed out at the moment—Empire suggests it's equally likely that if focuses on an African-American single mother vigilante, or that it initially focuses on the character of Hit-Girl from the original film, which is the role that introduced Chloe Grace Moretz to the world. A film focused on her could either pick up where Kick-Ass 2 left off with an adult Hit-Girl, or go back to the beginning to focus on her tutelage under the disturbed superhero known as Big Daddy.
Regardless, Marv Studios is already plenty busy with other projects, including co-production of Paramount's Elton John biopic Rocketman, which Vaughn refers to as "the first R-rated musical." That film will star Kingsman's Taron Egerton, under director Dexter Fletcher.
Further details on that bevy of upcoming Kingsman and Kick-Ass content as it arrives, but we can't help but think that Vaughn might be biting off a bit more than he can chew on this one.