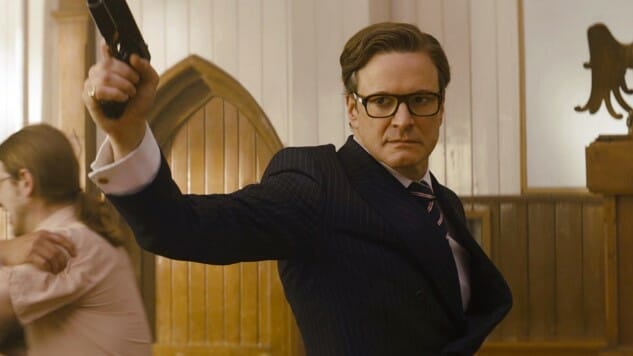 So while there's no official trailer released to the public yet, CinemaCon attendees got to see the first look at the forthcoming action flick Kingsman: The Golden Circle. According to TheWrap's reporting from the conference, it confirms a few cool things for the much-anticipated sequel.
Number one, it definitely confirms the return of Colin Firth's Galahad, who has been resurrected somehow after being shot and killed after the church fight in the first Kingsman by Samuel L. Jackson's character (which was a real shame, because that was a dope sequence otherwise).
Number two, Channing Tatum apparently has some awesome patriotic lines as a member of American counterpart the Statesman. And number three, we get the same kind of crazy visuals and fight sequences that we got in the first film. So, yeah, pretty cool news. Matthew Vaughn's sequel also counts Taron Egerton, Julianne Moore, Halle Berry, Jeff Bridges, Elton John (!), Pedro Pascal and Mark Strong among its cast, so get ready for a blockbuster.
Kingsman: The Golden Circle comes to theaters on Sept. 29 after recently being bumped up on Fox's calendar. Stay tuned for the trailer, which we can only hope will hit in a matter of days.