Will Smith Cast as Serena and Venus Williams' Father in King Richard
Photo by Matthias Hangst/Getty
Movies
News
King Richard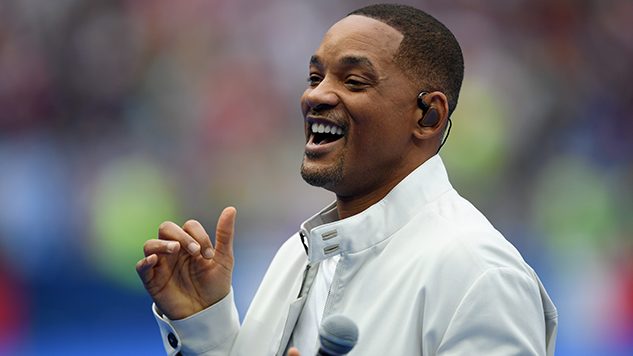 Will Smith has been tapped to play renowned coach Richard Williams, the father of Venus and Serena Williams, in King Richard, Deadline reports. The project is still just a spec script (penned by Zach Baylin), but the story is already creating a stir, primarily because of Smith's reported casting.
Firstly, though, Richard's career makes compelling material for a film. He had no background in tennis before raising his daughters to become two of the best players in history. He even mapped out a 78-page plan for their tennis careers and started the girls practicing on decrepit public courts in Compton. Now, both Serena and Venus are tennis legends.
There's already a team assembled behind the scenes for King Richard. Tim White and Trevor White, whose previous credits include The Post, Wind River and Ingrid Goes West, will serve as producers under their Star Thrower Entertainment banner. Smith himself is producing through his Overbrook Entertainment banner, and Mary Solomon and Rick Rickertsen are also co-producing. Executive producer duties will be taken up by Allan Mandelbaum and Caleeb Pinkett (Jada Pinkett-Smith's younger brother).
Smith's casting has sparked criticism, though, because he is lighter-skinned than Richard Williams.
Obviously nothing against Will Smith, but why is he playing Venus and Serena's Father?? Yes, the man can act but for the love of God there are dark-skinned Black men that can act too.

They can get one these men to do it or maybe even give an unknown actor a shot. pic.twitter.com/CTdxVTMT2v

— Neysha #SXSW (@La_Ney_sha) March 5, 2019
Colorism matters..love will Smith but there are other black actors for this role https://t.co/qrV1QuBiJH

— Clarence Hill Jr (@clarencehilljr) March 5, 2019
In case you're unfamiliar with the concept of colorism, Paste's Shannon M. Houston summed it up in a 2016 piece on Survivor's Remorse:
Colorism isn't natural, but it feels natural, or at least normal. If you're black, and especially if you're a black woman, you know where you fall on the paper bag test from the time you're a child. And we all learn early on, that it's simply "better" to be light-skinned. Better, prettier, kinder, sexier, smarter. And anyone darker than a brown paper bag gets closer to the opposite end of the spectrum, and is treated (by blacks and whites) accordingly.