Sony May Delay Release of All The Money in the World in Light of Kevin Spacey Scandal
Photo by Aidan Monaghan/Sony Pictures
Movies
News
kevin spacey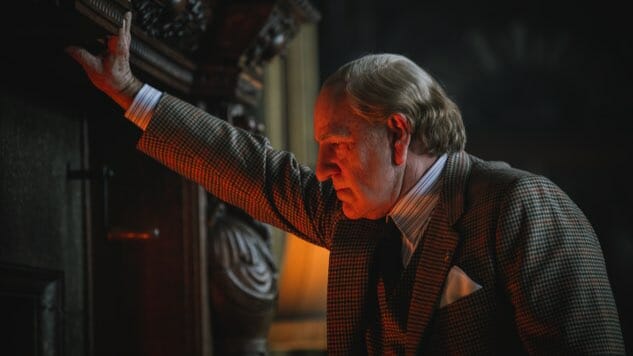 Sony Pictures is at a crossroads with All The Money in the World, their forthcoming Ridley Scott-directed drama based on the true story of the kidnapping of John Paul Getty III. The studio is considering pushing the film's release date, and is also weighing canceling its premiere at the American Film Institute, though no final decisions have yet been made, per Variety. The cause of all this uncertainty? The rapidity with which All The Money in the World's star, Kevin Spacey (pictured above, believe it or not), has become completely and utterly radioactive.
If the film's premiere is indeed delayed, it will likely be released in June 2018, rather than on Dec. 22, as currently scheduled. As of now, All The Money in the World is set as AFI Fest's closing night presentation, screening on Thursday, Nov. 16 in tandem with a tribute to its producer and director Scott. Variety reports that Scott has urged Sony to cancel the AFI premiere, though other producers on the project disagree, holding that the $40 million film should roll out as planned. A rep for Scott did not immediately respond to Variety's request for comment.
Sony had positioned All The Money in the World to make an awards season splash, with Spacey's transformative performance as billionaire oil tycoon J. Paul Getty leading the way. But as sexual misconduct allegations against Spacey continue to multiply—he's been accused by actor Anthony Rapp, former employees and performers at London's Old Vic theatre and numerous crew members on House of Cards—Sony has abandoned its Oscar push, attempting to salvage their awards campaign by featuring Spacey's co-stars Michelle Williams and Mark Wahlberg instead.
Over the weekend, Spacey was fired outright from Netflix's House of Cards. "Netflix will not be involved with any further production of House of Cards that includes Kevin Spacey," said a Netflix spokesperson in a statement. "We have also decided we will not be moving forward with the release of the film Gore, which was in post-production, starring and produced by Kevin Spacey." The actor's publicist recently released a statement saying, "Kevin Spacey is taking the time necessary to seek evaluation and treatment. No other information is available at this time."
Revisit the mostly Spacey-less trailer for All The Money in the World here.