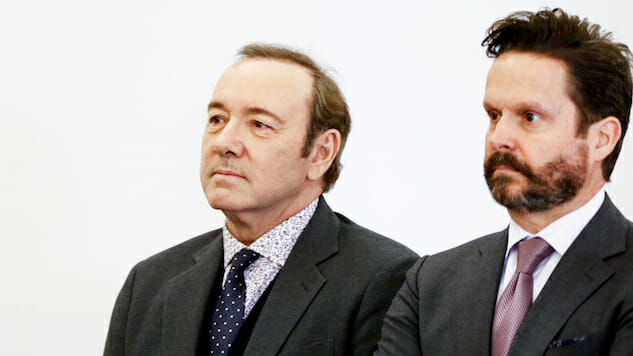 An individual who claimed to have been sexually assaulted by Kevin Spacey has passed away, according to THR. The notice was filed in court by Spacey's attorney. Spacey had been informed by the plaintiff's attorney that the client had "recently passed." The plaintiff's attorney has not responded to THR's requests for additional information.
The only details known about the plaintiff are that they were a massage therapist, as they chose to file as a "John Doe" due to privacy and safety concerns. The individual first filed claims in September 2018, alleging that they were forced to grab the actor's genitals twice during a massage two years prior at a private residence in Malibu.
The claim came on the heels of a slew of accusations against Spacey for sexual misconduct that made him an infamous figure in the early #MeToo movement. Actor Anthony Rapp accused Spacey in 2017 of preying on him years prior, when Rapp was only 14. Spacey responded to that accusation by coming out in an attempt to manipulate headlines in his favor. This malicious effort was eventually drowned out by successive accusations, including ones that came from eight crew members on House of Cards. Robin Wright subsequently took complete power over House of Cards for its final season, and Spacey was also erased from Ridley Scott's 2017 film All The Money in The World and replaced by Christopher Plummer.
This May, a California federal judge allowed the "John Doe" case to proceed despite objections from Spacey that the plaintiff was anonymous. The plans for the suit were just finalized in August, and included detailing prospective discovery and predicted a seven- to 11-day trial.The lawsuit could proceed through the heirs of "John Doe," though the anonymity issue presents a web of further complications.
The heirs may have to identify the deceased accuser to move forward, and a judge may be less inclined to protect the privacy of the deceased. Additionally, without the accusing witness, the case would be difficult to litigate. As this suit first began in 2018, it could likely take many months or years for the heir and plaintiff's attorneys to structure their next steps, if they chose to take more against Spacey.