Kevin Spacey's Billionaire Boys Club Earns Measly $618 in Opening Weekend
Photo by Rochelle Brodin/Getty
Movies
News
kevin spacey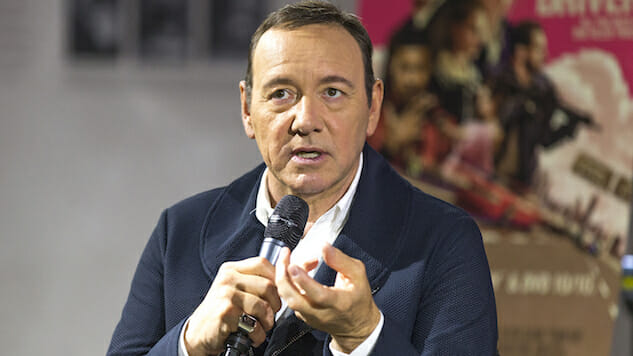 In an incredibly ironic twist of events, Billionaire Boy's Club opened this past weekend with abysmally low box office numbers.
The crime drama, produced by Vertical Entertainment, had its theatrical debut in 11 theaters across the United States, with showings in cities such as Detroit, Miami and San Francisco. The James Cox-directed film is based on an actual billionaire boys club active in the 1980s in southern California, and boasts a cast of well-known actors such as Kevin Spacey, Ansel Elgort, Taron Egerton and Emma Roberts.
Such a low turnout, for a film with four highly recognizable actors, is hardly to be expected. However, the film only earned a measly $128 on its opening day, with total sales of $618 for the entire opening weekend, per Variety. Some of the film's box office success may have been dampened by its previous video-on-demand release on July 17, though beyond that, the inclusion of controversial star Spacey seems the likeliest factor.
This film marks one of the first instances in which someone accused of sexual assault—in the era of #MeToo, in which Hollywood is becoming increasingly aware—later has a starring role in a theatrical release. The closest occurrence of this prior was Jeffrey Tambor, who held a supporting role in The Death of Stalin after being accused of sexual misconduct by two women.
Spacey was accused of sexual assault by actor Anthony Rapp in 2017 and the waves of that accusation rocked the film and TV industries. He was quickly fired from his lead role in the final season of Netflix's House of Cards, as well as being cut from and replaced in Ridley Scott's All the Money in the World.
Responding differently and choosing to go through with the release—first on VOD and then in theaters—Vertical Entertainment released a statement, per Variety: "We hope these distressing allegations pertaining to one person's behavior—that were not publicly known when the film was made almost two-and-a-half years ago and from someone who has a small, supporting role in Billionaire Boys Club—does not tarnish the release of the film."
Though the causes of the film's low sales can't be known for sure, it was definitely a career-low opening for Spacey with one of the 11 theaters—AMC Deer Valley 16 in Antioch, Calif.—generating only $9 on its opening night.