Joker Is Officially the Highest-Grossing R-Rated Movie Ever Made
Cue "Rock and Roll Part II"
Photos by Niko Tavernise/Warner Bros.
Movies
News
Joker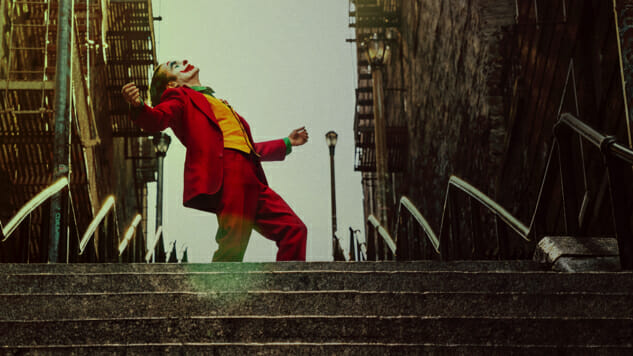 As expected as of last week, Todd Phillips' Joaquin Phoenix-starring Joker has become the highest-grossing R-rated movie in history (unadjusted for inflation) with $788 million in global box office, surpassing Deadpool 2's $785 million and the original Deadpool's $782 million, according to Forbes.
Really, Joker had already won out over Deadpool 2, whose global gross was goosed to the tune of $50 million by a late-2018, PG-13 re-release, as CNN notes. But "only" $259 million of Phillips' anti-superhero superhero movie's total was generated Stateside, meaning Mel Gibson's The Passion of the Christ retains the R-rated domestic record with a whopping $370 million.
Deadpool himself, the ever-irreverent Ryan Reynolds, tweeted his appropriately inappropriate kudos to the Joker team on Friday afternoon, sharing an image of Phoenix's Clown Prince of Crime atop his now-notorious set of stairs, towering over a list of lower-grossing R-rated film characters including Deadpool, Pennywise and … yeah, Jesus.
R-Rated box office congratulatory posts aren't like the ones you're used to… pic.twitter.com/OTy2BqIP4f

— Ryan Reynolds (@VancityReynolds) October 25, 2019
There's untold smoke surrounding Joker, meaning the film's ubiquity in the pop-cultural conversation and its lofty box office performance, but is there any actual fire? Ask the average moviegoer and they'll likely tell you Joker is one of the best—or worst—films of 2019. But the reality, as Paste's own Dom Sinacola wrote in his review of the film, is somewhere in between: "Do not let anyone tell you that Joker captures our specific time, represents our specific society, both births and defines our specific zeitgeist, grabs ahold of our specific faces and breathes smoke down our throats. It doesn't. Joker is, more than anything, fine. And we, more than anything, are not."