Jennifer Garner Struggles to Explain Her Viral Oscars Moment in Hilarious Interview
Images via NBC/YouTube, Dia Dipasupil/Getty
Movies
News
Jennifer Garner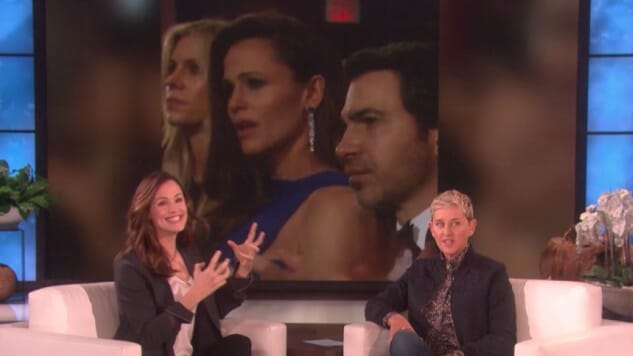 Jennifer Garner went viral after the 90th Academy Awards when the camera caught her reaction during a particular moment in the show. The internet then transformed that moment into a collection of hilarious viral memes, even prompting Garner to meme herself the following day.
When she stopped by The Ellen Show on Friday, of course Ellen had a few questions about it. In classic Ellen fashion, she replayed the hilariously awkward moment for everyone to see, to which Garner responded, "I can't even look at it. I can't. It's too embarrassing." She then goes on to ask, "What am I doing?"
"You do look disturbed," DeGeneres told the actress. Garner made it clear that she does not remember what was happening in that moment, but was a good sport and laughed about it along with everyone else in the world. "I try really hard not to see myself online, but she was a little unavoidable," Garner said of the moment after she began receiving texts and notifications about the viral moment.
This is not the first time Garner has gone viral. In the Ellen interview, she also talks about a hilarious video her assistant shot of her after a trip to the dentist, in which she was still high on laughing gas and was talking about her love for Hamilton. "I'm a bit of a lightweight," she said before Degeneres shared the clip in all its hilarity.
As you'll see below, Garner also stopped by the talk show to discuss her new film Love, Simon. The film, out in theaters today, is a coming-of-age story about a young high school boy who deicdes to come out of the closet. Garner plays the mother of its main character, Simon.