On Her Majesty's Secret Room Service: James Bond and Luxury Hotels
Kyle Turner visited Ian Fleming's GoldenEye Villa in Jamaica to comfortably consider James Bond's relationship to luxury living.
Photo of Ian Fleming's Villa c/o Finn Partners
Movies
Features
James Bond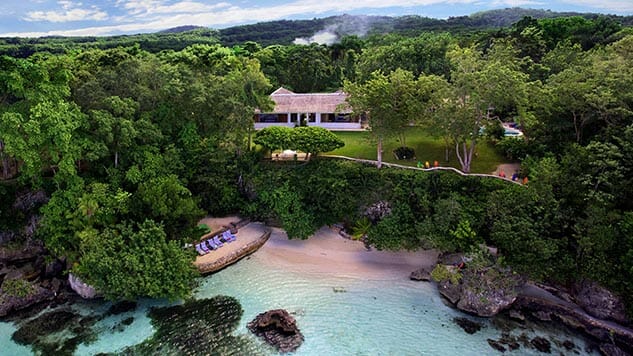 The view from Ian Fleming's desk, where he wrote all 14 James Bond novels and short stories, is, pardon the expression, to die for. An expansive window frames the warm, teal waters and emerald grass, the sun bathing the room in light. A mosquito net is draped on the bed and one can imagine what it would be like to have the sun peak through the gauzy fabric, beginning as a pin prick and then overwhelming as a wave of light. You can rent Fleming's GoldenEye Villa, the name of which inspired the 1995 film with Pierce Brosnan, and its four other bedroom, ocean-view villas for $5,000 a night. With its numerous pools and access points to the ocean, you can also see the coffee table (of a woman of color on her back as the base, a pane of glass as the plane) where Fleming probably first saw Birds of the West Indies, the book that inspired his dashing secret agent's name.
GoldenEye is now a luxury resort, with 52 acres of rooms and amenities, like yoga classes, swimming lessons and screenings of Bond films. Sitting on the coast of Oracabessa Bay in St. Mary, Jamaica, it makes a certain amount of sense that the kind of fantasy the property and estate, which has been running as such since the 1980s, can fulfill is one of opulence. Danger might as well be James's middle name, but so much of our conception of James Bond wraps peril and pain within class and wealth. Bond wouldn't be Bond without the luxury cars, the Omega watches, the bottles of Bollinger and, yes, the hotels and resorts, his relationship to them equally about his implicit presence as the zombie of British Imperialism and his licence to kill.
On a logistical level, it makes sense than Universal Exports—aka MI6—puts Bond up when he travels to Thailand, Macau, Montego Bay, Hong Kong, etc. Where else would he sleep? With friends? Relatives? In an AirBnB? He could couch surf with the women he sleeps with, but everyone likes a space of their own, even if it's bugged by the enemy, whoever that may be. At least there's room service.
But the exoticism of these locales, their foreignness and Bond's foreignness within them, requires balance with something more "civil," a reminder of the order Bond is both used to and must maintain. Bond's presence in a hotel forces the audience to recall how James Bond shapes our imagination of what these places—Ocho Rios, Cairo, the Island of Corfu—are like, with stark contrasts between the natural and the artificial. These juxtapositions also ask us to consider how James Bond has, if only by synecdoche, been responsible for those changes.
In 2002's Die Another Day, after Bond (Brosnan) escapes from the custody of MI6, having been detained for suspicion of leaking information while he was tortured by North Korea, he finds himself in Hong Kong. He strolls into the Rubyeon Royale Hotel ("ruby" meaning "40 years," "eon" an acronym for "everything or nothing"—also the name of the Bond production company—and "Royale" as in Casino Royale) in nothing but drenched hospital clothes wet from the sea. "My usual suite, please," he says to the check-in receptionist cooly. Skeptically, looking at the currently scuzzy man with disdain, the clerk asks if Bond has a credit card or luggage, but the hotel's manager, Mr. Chang (Ho Yi), spots him and tells the clerk in Mandarin to open up the Presidential Suite, sending up food, clothes and '61 Bollinger. The camera basks in the splendor of means, with wrapped up dress shirts, delicately arranged fruit, a crystal champagne glass and a spacious room, and spends as much time reveling in the masseuse sent up to Bond's room with "compliments from the manager."
A come on to the masseuse reveals itself to be a move regarding intel; in a thigh holster hides a small semi-automatic. Bond tosses one of the crystal coasters into a mirror, its spidery disintegration revealing a small group of people with a camera and video monitors behind them. Mr. Chang steps out from the shards as Bond furiously asserts, "You think I didn't always know you were Chinese Intelligence, Chang?" Chang spits back, "Hong Kong's our turf now, Bond." Bond quips, "Well, don't worry about it; I'm not here to take it back."
In this scene, and others like it throughout the series, James Bond's proximity to wealth is often inextricable from what he represents as a political figure. In essence, luxury and politics go hand in hand, even implicitly. Bond's, and thus Britain's, history with Hong Kong is hinted at in other films, like Tomorrow Never Dies, but the Rubyeon Royale scene is striking because it establishes an aspect of tension and alliance in a political context between those nations, much like GoldenEye explores post-Cold War paranoia between Britain and Russia.
In From Russia with Love, Dr. No, The Living Daylights and A View to a Kill, the dream that's conjured is not merely sumptuousness for its own sake, but grandeur with strings attached. Listening devices, dead bodies, double agents are as much a part of the room as the shag carpets and the jeweled chandeliers. Such comfort suggests a kind of quid pro quo: Serve as an agent for the government, a kind of super policeman, and magnificence can be yours. What James Bond is, and has access to, is based on transaction.
When Bond slips into the Ocean Club in the Bahamas in Casino Royale, he books an ocean view villa on the spur of the moment. Without blinking, he hands the receptionist his credit card. The resort, owned by Four Seasons Hotels and Resorts, also features villa residences, suites and a 24-hour dining room. Single bedrooms, with king sized beds, start at around $1,700 currently. The fantasy of James Bond is of danger and, beyond financial security, affluence, excess. Killing is worth it if it can come with a four-night stay, beluga caviar on the house. You can have the world—and, as Shirley Manson sings, "The world is not enough, but it is such a perfect place to start."