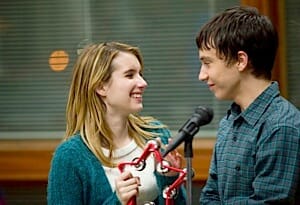 Directors: Anna Boden, Ryan Fleck
Writers: Anna Boden, Ryan Fleck
Cinematographer: Andrij Parekh
Starring: Keir Gilchrist, Zach Galifianakis, Lauren Graham, Jim Gaffigan, Emma Roberts
Studio: Focus Features, 91 min.
Crazy is as crazy does.
The story isn't as compelling, the patients and staff aren't as deranged, and the performances certainly aren't as powerful. Even so, One Flew Over the Cuckoo's Nest involuntarily comes streaming to mind while watching It's Kind of a Funny Story. Call it "Cuckoo Light" with a PG 13-appropriate amount of angst and just enough laughs and creativity to keep your attention.
High schooler Craig (Keir Gilchrist) is in a teenage funk. Amid all the usual despondencies, he's also fallen in love with his best friend's girl. So when suicidal thoughts come a-creeping Craig stops in at the local mental health clinic for a bit of advice, never realizing that checking in is much easier than checking out. Suddenly it's a mandatory five-day visit—minimum. To make matters worse, while the young people's wing is being remodeled Craig is thrown into the grown-up psychiatric ward of the hospital. The result is not necessarily a surprising storyline: friendships made, girl discovered, lessons learned. The funny thing with a familiar story, however, is that a sharp writer—or in this case, two: Anna Boden and Ryan Fleck (Half Nelson, Sugar)—can breathe life into an otherwise predictable script.
So does Zach Galifianakis (The Hangover, Bored to Death), who plays the seemingly sane but privately depressed Bobby who becomes Craig's tour guide and mental mentor. The expected Galifianakis comedic gift is there, but so are some deft dramatic talents in brief, touching scenes. Gilchrist, who has the likability and looks of a younger Justin Long, plays a capable straight man to Bobby and the rest of the life-challenged inhabitants. In one of the most enjoyable scenes, a therapy session with musical instruments turns into a full-blown rock 'n' roll fantasy to the tune of "Under Pressure" by Bowie and Queen. Lauren Graham and Jim Gaffigan make brief, almost meaningless appearances as Craig's parents. And the movie's stereotypical interpretation of a psych ward barely registers as credible. But, in a crazy way, it works.