Avengers: Infinity War on Unprecedented Pre-sales Pace, Selling More Advance Tickets Than Last Seven Marvel Movies Combined
Image via Marvel Studios
Movies
News
Infinity War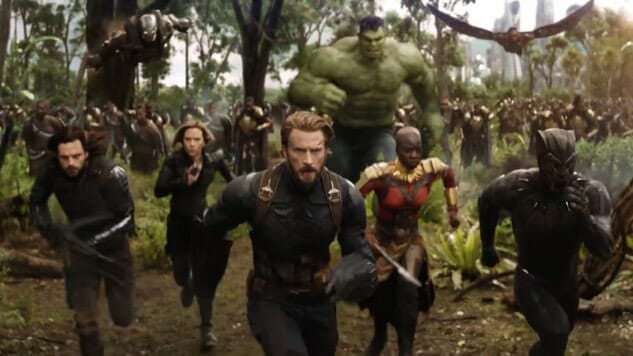 Infinity War is running towards being the top-grossing superhero film of all time. It is predicted that Marvel's superhero mashup will score over $200 million domestically in its opening weekend. Just two weeks before the release of probably the most anticipated movie of the year, Fandango reports (per THR) that Infinity War will beat out Black Panther, which currently holds the record for the most pre-sale tickets of any superhero title. Fandango further reports that Infinity War is on pace to outsell Black Panther by a more than a two-to-one margin. As if that's not impressive enough, Infinity War pre-sales are coming in ahead of those of the last seven Marvel films combined, those seven titles being: Black Panther, Thor: Ragnarok, Spider-Man: Homecoming, Guardians of the Galaxy Vol. 2, Doctor Strange, Captain America: Civil War and Ant-Man.
In addition to all that, it's no surprise Infinity War has also become Fandango's top April pre-seller, beating out Furious 7. "Infinity War has built up such unprecedented anticipation that it's pacing to break records, the likes of which we have never seen before for a superhero movie," says Fandango's Erik Davis.
Many are predicting Infinity War will become the highest-grossing superhero title of all time, just judging by its opening weekend projections. Only five films have actually crossed $200 million in their opening three days, and they are, not accounting for inflation, Black Panther ($202 million), The Avengers ($207.4 million), Jurassic World ($208.8 million), Star Wars: The Last Jedi ($220 million) and Star Wars: The Force Awakens ($248 million). Black Panther currently sits at the top for highest-grossing superhero film in its first week.
Directed by the Russo Brothers, who directed Captain America: Civil War and Captain America: The Winter Soldier, Infinity War features one of the most extensive casts in MCU history, reuniting the Avengers gang with likely and unlikely friends. Iron Man (Robert Downey Jr.), Captain America (Chris Evans), Black Widow (Scarlett Johansson), Black Panther (Chadwick Boseman), Thor (Chris Hemsworth), Hawkeye (Jeremy Renner), Hulk (Mark Ruffalo), Ant-Man (Paul Rudd), Spider-Man (Tom Holland), Valkyrie (Tessa Thompson), Scarlet Witch (Elizabeth Olson), the White Wolf (Sebastian Stan), Gamora (Zoe Saldana), Dr. Strange (Benedict Cumberbatch), Vision (Paul Bettany), Okoye (Danai Gurrira), Rocket Raccoon (Bradley Cooper), Loki (Tom Hiddleston), War Machine (Don Cheadle), Falcon (Anthony Mackie), Shuri (Letitia Wright), Drax (Dave Bautista), Groot (Vin Diesel), with Pepper Potts (Gwyneth Paltrow), Ramonda (Angela Bassett) and Star-Lord (Chris Pratt) all team up to defeat Thanos (Josh Brolin).
Check out the latest trailer for Infinity War here. The film opens nationwide on April 27.