New on Hulu: All the Movies and TV Coming in November
Image via Annapurna Pictures
Movies
Features
Hulu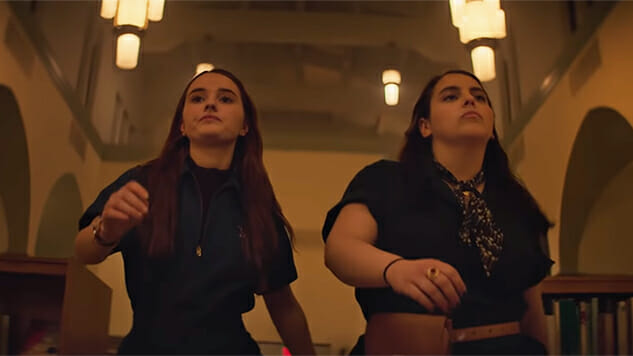 Ah, November. Lower temperatures outside means more reasons/excuses to curl up and watch all the content coming to Hulu this month. There are many exciting additions to be thankful for, while others you should be sure to catch before they leave on Nov. 30.
On the film front, Olivia Wilde's much-adored directorial debut, Booksmart, starring the fantastic Beanie Feldstein (Lady Bird) and Kaitlyn Dever (Unbelievable) will be available Nov. 18. You can get your groove on with '80s classic Flashdance, the Jennifer Lopez/Richard Gere rom-com Shall We Dance, or the more scandalous and critically successful Steven Soderbergh film Magic Mike (all starting Nov. 1). The Breakfast Club and Sixteen Candles will bring the teen nostalgia back on Nov. 1 through the STARZ premium add-on, which also boasts musical additions Mamma Mia! (Nov. 16) and West Side Story (Nov. 1). You can go back to Captain America's days as a different superhero with Fantastic Four (Nov. 1), see Sylvester Stallone train Michael B. Jordan again in Creed II (Nov. 15), and keep up the Brad Pitt theme of 2019 with the Coen Brothers flick Burn After Reading (Nov. 16). Speaking of Pitt, Paste's pick for the best horror film of 1994, Interview with the Vampire is also being added on Nov. 1, along with The Babadook director Jennifer Kent's sophomore film, The Nightingale, while The Ring is also showing up a day late for Halloween. Compelling documentaries are also due: The Handmaids Tale author Margaret Atwood brings her relationship with Hulu to her own life with new documentary Margaret Atwood: A Word After a Word After a Word is Power (Nov. 19) and filmmaker Werner Herzog sits down with former USSR president Mikhail Gorbachev in Meeting Gorbachev (Nov. 26).
TV-wise, there's the wholesome Kids Baking Championship and Too Cute! Seasons Two and Three, followed by a good dose of trash TV with Love Island: Australia available at the top of the month. The season premieres of both Shameless's 10th season and Ray Donovan's seventh season can streamed with the Showtime extension on Nov. 10 and Nov. 17, respectively. The fifth and final season of the refreshing anti-rom-com series You're the Worst will be available Nov. 9. Hulu has plenty of original content coming out, as well: Anthology series Into the Dark's creative, holiday-oriented horror takes things back to Plymouth with "Pilgrim," which revolves around a Thanksgiving reenactment that is not something to be thankful for. On Nov. 15, a young woman named Jules (Kat Dennings) has to connect with lost friends after a breakup in Dollface, while on the 22nd, The Accident offers a serious look at an abandoned community on the brink of finding hope, which in turn is snuffed out by a fatal mistake.
Then there's the exits. All of the Blade films will be leaving Hulu next month, as well as The Amityville Horror, Snakes on a Plane and acclaimed WWII drama Das Boot. John Hughes classic Pretty in Pink will also say adieu, as well as the coming-of-age dramedy Juno. We'll be sad to see Ellen Page and Michael Cera go, but there's clearly plenty of good content coming this month to fill the void.
Hulu's complete November cast—and cuts—is available below.
Available November 1
America's Cutest: Complete Seasons 2&3 (Animal Planet)
Giada's Holiday Handbook: Complete Seasons 1-3 (Food Network)
Holiday Baking Championship: Complete Seasons 1-4 (Food Network)
Into The Dark: Pilgrim: Episode Premiere (Hulu Original)
Kids Baking Championship: Complete Season 4 (Food Network)
Love Island: Australia: Complete Season 1 (ITV)
Sex Sent Me to the ER: Complete Seasons 1&2 (TLC)
Too Cute!: Complete Seasons 2&3 (Animal Planet)
A Fairly Odd Christmas (2012)
A Simple Plan (1998)
Albert (2016)
Big Top Pee-Wee (1988)
Chinatown (1974)
The Counterfeit Traitor (1962)
Dinner for Schmucks (2010)
Double Jeopardy (1999)
The Englishman Who Went Up a Hill but Came Down a Mountain (1995)
Escape from Alcatraz (1979)
Everything You Always Wanted to Know About Sex, but were Afraid to Ask (1972)
Fantastic Four (2005)
Fatal Attraction (1987)
Fever Pitch (2005)
Fire with Fire (2012)
The Firm (1993)
Flashdance (1983)
Freddy Vs Jason (2003)
Freddy's Dead: The Final Nightmare (1991)
Freelancers (2012)
Fun with Dick and Jane (2005)
Gloria (2014)
Head of State (2003)
Home for the Holidays (1995)
I Heart Huckabees (2004)
In Enemy Hands (2003)
Interview with the Vampire (1994)
Kingpin (1996)
Light Sleeper (1992)
Madea's Big Happy Family (2011)
Madea's Witness Protection (2012)
Magic Mike (2012)
The Mexican (2001)
The Nightingale (2019)
Overlord (2018)
The Pink Panther 2 (2009)
Reds (1981)
The Ring (2002)
Santa Hunters (2014)
Shall We Dance? (2004)
Sinbad: Legend of the Seven Seas (2002)
Soapdish (1991)
Spy Next Door (2010)
Summers Moon (2009)
Terminator 3: Rise of the Machines (2003)
Terminator Salvation (2009)
Tim Burton's Corpse Bride (2005)
Tiny Christmas (2017)
The Two Jakes (1990)
Under the Tuscan Sun (2003)
Undisputed (2002)
Waiting… (2005)
You Laugh but It's True (2011)
Available November 4
Denial (2016)
Available November 5
Framing John Delorean (2019)
Available November 6
Long Time Coming: A 1955 Baseball Story (2017)
The Biggest Little Farm (2019)
Available November 7
Texas Chainsaw 3D (2013)
Available November 9
You're the Worst: Complete Season 5 (FX)
Available November 13
Anna and the Apocalypse (2018)
Ugly Dolls (2018)
Available November 14
Instant Family (2018)
Veronica Mars (2014)
Available November 15
Dollface: Complete Season 1 Premiere (Hulu Original)
Creed II (2018)
Wings of the Dove (1997)
Available November 18
Booksmart (2019)
The Tomorrow Man (2019)
Available November 19
Apple Tree Yard: Complete Season 1 (Fremantle)
Margaret Atwood: A Word After a Word After a Word is Power (2019)
The Quiet One (2019)
Available November 20
Some Kind of Beautiful (2015)
Available November 22
The Accident: Complete Season 1 Premiere (Hulu Original)
Holly Hobbie: Complete Season 2 Premiere (Hulu Original)
Vita & Virginia (2019)
Available November 24
Ice Age: A Mammoth Christmas (2010)
Available November 25
Love & Mercy (2015)
Available November 26
NOS4A2: Complete Season 1 (AMC)
Astronaut (2019)
Available November 27
Meeting Gorbachev (2019)
Available November 28
Mike Wallace is Here (2019)
The following are available with the HBO premium add-on:
His Dark Materials: Series Premiere (11/4)
Daniel Sloss: X: Comedy Special (11/2)
The following are available with the STARZ premium add-on:
Dublin Murders: Series Premiere (11/10)
Half Baked (1998) (11/1)
Hugo (2011) (11/1)
National Lampoon's Animal House (1978) (11/1)
Rollerball (2002) (11/1)
Sixteen Candles (1984) (11/1)
The Breakfast Club (1985) (11/1)
The Interpreter (2005) (11/1)
West Side Story (1961) (11/1)
The King of Kong: A Fistful of Quarters (2007) (11/8)
The Burbs (1989) (11/14)
Coneheads (1993) (11/15)
Date and Switch (2014) (11/15)
Devil in a Blue Dress (1995) (11/15)
Psycho (1998) (11/15)
Psycho II (1983) (11/15)
Psycho III (1986) (11/15)
Psycho IV: The Beginning (1990) (11/15)
Snake Eyes (1998) (11/15)
The Brady Bunch Movie (19955) (11/15)
The Mod Squad (1999) (11/15)
Away We Go (2009) (11/16)
Burn After Reading (2008) (11/16)
Mamma Mia! (2008) (11/16)
State of Play (2009) (11/16)
The Addams Family (1991) (11/16)
Jack and Jill (2011) (11/2)
The following are available with the SHOWTIME premium add-on:
Back to Life: Series Premiere
Shameless: Season 10 Premiere
Ray Donovan: Season 7 Premiere
Leaving Hulu on November 30
27 Dresses (2008)
The Amityville Horror (1979)
All Dogs Go to Heaven 2 (1996)
Bigfoot County (2012)
Blade (1998)
Blade 2 (2002)
Blade Trinity (2004)
Blue Jasmine (2013)
Constantine (2005)
The Chumscrubber (2005)
The Cooler (2003)
The Darker Half (1993)
Das Boot (1981)
Disturbing Behavior (1998)
Drop Dead Gorgeous (1999)
The Edge (1997)
Emma (1996)
Evil Dead II (1987)
The Ghost and the Darkness (1996)
Hoosiers (1986)
Ingenious (2009)
Juno (2007)
The Last Exorcism (2010)
Liar, Liar (1997)
Lost in Space (1998)
Man on a Ledge (2012)
Max 2: White House Hero (2017)
The Midnight Meat Train (2009)
Mommie Dearest (1987)
Mr. Mom (1983)
The Object of Beauty (1991)
Pretty in Pink (1986)
Primal Fear (1996)
Ravenous (1999)
Secretary (2002)
Set Up (2011)
Shivers (1975)
Snakes on a Plane (2006)
Suicide Kings (1998)
Throw Momma from the Train (1987)