New on Hulu: All the Movies and TV Coming in April
Images via Paramount Pictures
Movies
Features
Hulu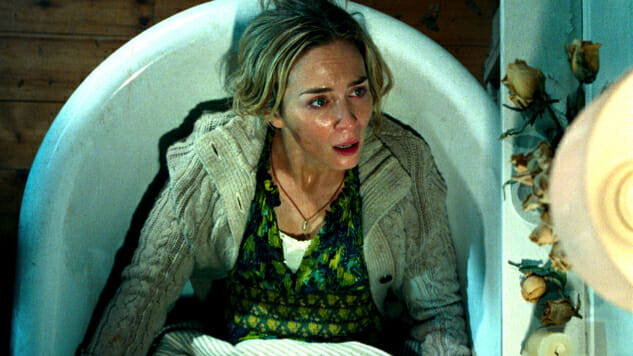 We're already nearly a quarter of the way into 2019, if you can believe it, and as the days keep flying off the calendar, new titles keep making their way to streaming services. As such, Hulu subscribers will have the following new film and television options at their fingertips, come April.
Hulu's incoming film slate is impressive, and one of its most eye-catching titles is more concerned with our ears: horror-thriller A Quiet Place (April 2), the directorial debut of John Krasinski, who stars alongside Emily Blunt, Millicent Simmonds and Noah Jupe as a family struggling to survive in a post-apocalyptic world stalked by monsters with ultra-sensitive hearing. The film was one of 2018's most pleasantly surprising commercial and critical hits, and as far as we know, this is its streaming-service debut, so if you missed the boat in theaters, now's your chance. But first, a cavalcade of other notable films precede A Quiet Place on April 1, including Stanley Kubrick's horror classic The Shining, underrated David Cronenberg crime-thriller Eastern Promises, the Coen brothers' Barton Fink, Steve Martin-starring comedy essential The Jerk, John Carpenter's Snake Plissken adventure Escape from L.A., live-action Addams Family films The Addams Family and Addams Family Values, Tony Scott's Oscar-nominated Days of Thunder, Cheech & Chong's stoner-comedy classic Up in Smoke, a pair of Jim Carrey vehicles in Big Fat Liar and The Cable Guy, Jason Reitman's Oscar-nominated romantic dramedy Up in the Air, drug-dealing drama Blow, Beverly Hills Cop II (you'll have to look elsewhere for the first one) and a whole bunch of Bond films. There's more to come later in the month as well, such as horror phenomenon sequel Paranormal Activity 2 (April 8), Karyn Kusama's Nicole Kidman-led detective thriller Destroyer (April 9), acclaimed Jacques Audiard Western The Sisters Brothers (April 22) and 2019 Oscar nominee Border (April 24), for instance.
Next month also brings plenty to Hulu by way of small-screen offerings, starting on April 1 with the latest installment of the streamer's original series Into the Dark. New episodes of the Blumhouse anthology premiere monthly, each inspired by a holiday that falls in that same span—as you may have guessed, this month's episode, titled "I'm Just F*cking With You," concerns April Fools' Day. Also debuting that same day are new seasons of History Channel's Ancient Aliens, A&E's Intervention and, uh, Bravo's The Real Housewives of Potomac, if those are more your speed. Following later on in the month are a One-Punch Man catch-up special (April 2), the season two premiere of Freeform's Marvel's Cloak & Dagger (April 5), the actual season two premiere of One-Punch Man (April 9), the season three premiere of Freeform's The Bold Type (April 10), the complete first season of TNT's Patty Jenkins/Chris Pine murder-mystery limited series I Am The Night (April 18), the complete season one premiere of Hulu original Ramy (April 19) and the complete season 5B of History Channel's decidedly ahistoric Vikings, to name a few. Folks who access pay-cable subscriptions through Hulu also have plenty to be excited about: Starz subscribers should be focused more on the movie department, but season two of Showtime's The Chi premieres on April 7, and the final season of HBO epic Game of Thrones premieres on April 14, and you can stream it all via Hulu.
We'll leave you with which titles are departing the streamer next month, all of which do so on April 30. Notable expirations include 1980 country club comedy Caddyshack (and 1988 follow-up Caddyshack II), iconic Susan Sarandon/Geena Davis-led crime caper Thelma & Louise, Oliver Stone's Oscar-winning Vietnam war drama Born on the Fourth of July, 1989 baseball classic Field of Dreams, hard-rockin' SNL spinoffs Wayne's World and Wayne's World 2, beloved Looney Tunes/live-action hybrid Space Jam, Tim Burton's 2005 Charlie and the Chocolate Factory adaptation and more. Watch what you want while you can watch it, folks—words to live by, those.
See Hulu's complete April slate below.
Available April 1
Alone: Complete Season 5 (History Channel)
Ancient Aliens: Complete Seasons 1, 2, 3, 13 (History Channel)
Behind Bars: Rookie Year: Complete Season 1 (A&E)
Born Behind Bars: Complete Season 1 (A&E)
Cults and Extreme Belief: Complete Season 1 (A&E)
Intervention: Complete Season 20 (A&E)
Into The Dark: I'm Just F*cking With You: Episode 7 Premiere (Hulu Original)
Little Women: LA: Complete Season 4 (Lifetime)
Mountain Men: Complete Season 1 (History Channel)
Raising Tourettes: Complete Season 1 (A&E)
The Real Housewives of Potomac: Complete Season 3 (Bravo)
1492: Conquest of Paradise (1992)
The Addams Family (1991)
Addams Family Values (1993)
Akeelah and the Bee (2006)
America's Prince: The John F. Kennedy Jr. Story (2003)
An Everlasting Piece (2000)
At Close Range (1986)
Barton Fink (1991)
Beethoven (1992)
Beethoven's 2nd (1993)
Beethoven's 3rd (1999)
Beverly Hills Cop II (1987)
Big Fat Liar (2002)
Blow (2001)
Blown Away (1994)
Bounce (2000)
The Cable Guy (1996)
Case 39 (2009)
The Clearing (2002)
Cold Mountain (2003)
Curious George: Follow that Monkey (2009)
Darkness (2002)
The Dark Mile (2017)
Days of Thunder (1990)
Diamonds are Forever (1971)
Die Another Day (2002)
Dr. Dolittle: Tail to the Chief (2007)
Dragonslayer (1981)
Eastern Promises (2007)
Escape from L.A. (1996)
Everything Must Go (2011)
The Falcon and the Snowman (1985)
Foxfire (1996)
Funny About Love (1990)
Funny Cow (2017)
Gloves Off (2017)
Goldfinger (1964)
Halloween H20: 20 Years Later (1998)
Happy Feet (2006)
Hollywood Homicide (2003)
Hot Shots! Part Deux (1993)
I Think I Love My Wife (2007)
In A World… (2013)
The Jerk (1979)
Jersey Girl (2004)
Kill the Irishman (2011)
Law of the Lawless (1964)
Liberty Stands Still (2002)
License to Drive (1988)
Like Mike (2002)
Little Monsters (1989)
Live and Let Die (1973)
The Living Daylights (1987)
The Man with the Golden Gun (1974)
The Minus Man (1999)
Never Say Never Again (1983)
Octopussy (1983)
One Million American Dreams (2018)
Painkillers (2018)
Penelope (2006)
Playing By Heart (1998)
Practical Magic (1998)
Primal Fear (1996)
Project Nim (2011)
Racing with the Moon (1984)
Scary Movie 2 (2001)
The Seven Year Itch (1955)
Sex Drive (2008)
The Shining (1980)
Six Degrees of Separation (1993)
The Spy who Loved Me (1977)
Stories we Tell (2013)
Sunshine Cleaning (2009)
The Time Traveler's Wife (2009)
Ultraviolet (2006)
Undisputed (2002)
Uninvited Guest (1999)
Up in Smoke (1978)
Up in the Air (2009)
White Noise (2005)
The World is not Enough (1999)
You Only Live Twice (1967)
Available April 2
One-Punch Man: Special (Viz)
A Quiet Place (2018)
Air Strike (2018)
Weightless (2018)
Available April 5
Marvel's Cloak & Dagger: Season 2 Premiere (Freeform)
Available April 7
Rick Steves' Europe: Complete Season 10 (PBS)
Available April 8
Finding Your Feet (2018)
Paranormal Activity 2 (2010)
Available April 9
One-Punch Man: Season 2 Premiere (Viz)
Destroyer (2018)
Available April 10
The Bold Type: Season 3 Premiere (Freeform)
Chio's School Road: Season 1 (DUBBED) (Funimation)
How Not to Summon a Demon Lord: Season 1 (DUBBED) (Funimation)
Available April 11
The Last Ship: Season 5 Premiere (TNT)
Tyrel (2018)
Available April 12
Pledge (2019)
Available April 14
Steve Jobs: The Man in the Machine (2015)
Available April 15
90 Day Fiancé: Happily Ever After?: Complete Season 3 (TLC)
Ayesha's Home Kitchen: Complete Seasons 1&2 (Food Network)
Barefoot Contessa: Back to Basics: Complete Seasons 11-13 (Food Network)
Dr. Pimple Popper: Complete Season 1 (TLC)
Fixer Upper: Complete Season 5 (HGTV)
How the Earth Works: Complete Season 1 (Science Channel)
The Last Alaskans: Complete Seasons 2&3 (Discovery Channel)
Obsession: Dark Desires: Complete Season 2 (ID)
Pamela Smart: An American Murder Mystery: Complete Season 1 (ID)
Treehouse Masters: Complete Seasons 8-10 (Animal Planet)
Unearthed: Complete Seasons 2&3 (Science Channel)
What on Earth: Complete Seasons 2&3 (Science Channel)
Yukon Men: Complete Season 6 (Discovery Channel)
Enchanted April (1991)
Master of Disguise (2002)
We Are Columbine (2018)
Available April 17
Bless This Mess: Series Premiere (ABC)
Overboard (2018)
Available April 18
I Am The Night: Complete Season 1 (TNT)
The Quake (2019)
Available April 19
Ramy: Complete Season 1 Premiere (Hulu Original)
Available April 21
Book Club (2018)
Noma – My Perfect Storm (2015)
Available April 22
The Posh Frock Shop: Complete Season 1 (Banijay)
The Next Three Days (2010)
The Sisters Brothers (2018)
Available April 23
Overlord: Episodes 1-13 (DUBBED) (Funimation)
Arcadia (2019)
Beast of the Water (2019)
Available April 24
Border (2019)
Don't Go (2018)
Available April 27
Welcome to the Rileys (2010)
Available April 28
Attack on Titan: Season 3, Part 2 Premiere (Funimation)
Available April 29
Fairy Tail: Season 9, Episodes 291-303 (DUBBED) (Funimation)
Waiting for Superman (2010)
Available April 30
Vikings: Complete Season 5B (History Channel)
Hunting Evil (2019)
The following are available with the STARZ premium add-on:
Another 48 Hrs. (1990) (4/1)
Babe (1995) (4/1)
Bend It like Beckham (2003) (4/1)
Cheaper by the Dozen 2 (2005) (4/1)
Dickie Roberts: Former Child Star (2003) (4/1)
Drillbit (2008) (4/1)
Forces of Nature (1993) (4/1)
Fried Green Tomatoes (1991) (4/1)
Promise Land (2012) (4/1)
Rain Man (1988) (4/1)
Soul Plane (2004) (4/1)
The Cider House Rules (1999) (4/1)
The Truman Show (1998) (4/1)
The Wedding Singer (1998) (4/1)
The X-Files: I Want to Believe (2008) (4/1)
Tron Legacy (2010) (4/1)
White Boy (2017) (4/8)
Fletch (1985) (4/12)
Fletch Lives (1989) (4/12)
Harlem Nights (1989) (4/12)
Red Dawn (1984) (4/12)
The Equalizer 2 (2018) (4/13)
Soul Surfer (2011) (4/17)
Dr. Seuss' Horton Hears a Who! (2008) (4/19)
Osmosis Jones (2001) (4/19)
Romancing the Stone (1984) (4/19)
The Jewel of the Nile (1985) (4/19)
Wild Bill (1995) (4/19)
Just Go With It (2011) (4/22)
Babylon A.D. (2008) (4/26)
White Boy Rick (2018) (4/27)
The Lone Ranger (2013) (4/30)
The following are available with the SHOWTIME premium add-on:
The Chi: Season 2 Premiere (4/7)
The following are available with the HBO premium add-on:
Game of Thrones: Season 8 Premiere (4/14)
Leaving Hulu on April 30:
A Thousand Junkies (2017)
A Walk to Remember (2002)
Abduction (2011)
Asterix & Obelix: Mission Cleopatre (2002)
Bleeding Heart (2015)
Born on the Fourth of July (1989)
Broadway Danny Rose (1984)
Caddyshack (1980)
Caddyshack II (1988)
Chaos (2005)
Charlie and the Chocolate Factory (2005)
Chasing Liberty (2004)
Daybreakers (2009)
Cake (2006)
Delta Farce (2007)
Escape from Alcatraz (1979)
Field of Dreams (1989)
Foolish (1999)
Freedomland (2006)
Hairspray (1988)
He Got Game (1998)
Lars and the Real Girl (2007)
Marathon Man (1976)
Maximum Security (1990)
Mississippi Burning (1988)
Next Day Air (2009)
No Greater Love (2017)
Priceless (2016)
Revolutionary Road (2008)
Robin Hood: Prince of Thieves (1991)
Silver (1993)
Space Jam (1996)
Thelma & Louise (1991)
Tomcats (2001)
Tyler Perry's Boo! A Madea Halloween (2016)
Unforgettable (1996)
Untamed Heart (1993)
Wayne's World (1992)
Wayne's World 2 (1993)
What Lies Beneath (2000)
Young Adult (2011)