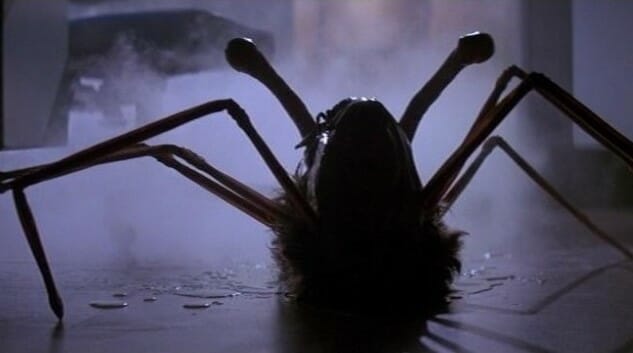 Even though its critical reception was actually quite negative at the time of release (surprising, right?), there's little doubt that to modern horror fans, John Carpenter's The Thing is widely regarded as one of the genre's greatest masterpieces of paranoia and suspense. It's held in such reverence, in fact, that we can't help but think audiences might not want to see another remake … even though Carpenter's The Thing was itself a remake of 1951's The Thing From Another World.
Now, however, it seems that another take on The Thing is barreling toward us by way of Blumhouse, with multiple outlets reporting that the indie horror studio has greenlit a production that is based on the original novel source material by John W. Campbell Jr.
This is interesting, as existing versions of The Thing, including the ill-fated 2011 remake, have all been based on Campbell Jr.'s novella Who Goes There?, originally published in the Aug. 1938 issue of Astounding Science Fiction. That story, however, was not Campbell Jr.'s full version, having been trimmed to fit the magazine. The original novel manuscript, entitled Frozen Hell, had been lost until its discovery in 2018 by sci-fi writer John Betancourt in Campbell Jr.'s journals, and Betancourt subsequently created a Kickstarter to fund the release of the full Frozen Hell novel. And it's THIS expanded version of The Thing backstory that the Blumhouse team will use for their film.
As Betancourt said via Kickstarter: "Frozen Hell expands the Thing story dramatically, giving vital backstory and context to an already incredible tale."
Betancourt also made the announcement via Kickstarter that Blumhouse and Universal Studios were adapting this version of The Thing, saying that it was being "fast-tracked" into production. The news was confirmed by producer Alan Donnes, who posted the following on Facebook:
"It's OFFICIAL! I received my signed contract and first check! I am Executive Producing a remake of THE THING but with additional chapters of John Campbell's groundbreaking novel, Frozen Hell, that had been lost for decades. Now, for the first time ever, Campbell's full vision will be realized on the big screen. The new film will include the very best of RKO's THE THING FROM ANOTHER WORLD, John Carpenter's classic THE THING and both books, Frozen Hell and Who Goes There?"
Unsurprisingly, there's zero mention of the 2011 The Thing prequel there, considering that film's poor reputation with film geeks. Still, it's interesting to ponder what kind of material might be in this version of The Thing that we've never seen before. Now, if only it could compete with 1982's untouchable practical effects …
We'll bring you more information on this version of The Thing as it becomes available.