Aliens Lay Waste to Humanity in the First Trailer for A Quiet Place 2
Photo via Paramount
Movies
News
horror movies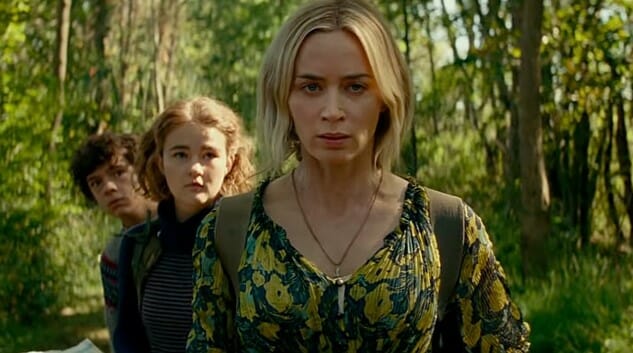 Get ready to once again be filled with apprehension by the slightest sound, because we finally have a trailer for the sequel to A Quiet Place. Actor-director John Krasinski's 2018 debut was a horror popcorn muncher of the highest order, thriving via solid performances and the uniqueness of its "any sound could get you killed" central conceit. In a world overthrown by blind, but incredibly hearing-sensitive aliens, one family had to learn to survive by living a life of total silence.
Now, the Abbotts are back, sans a few key cast members from the first film … ahem, we'll refrain from spoiling it if you haven't seen the original. Krasinski is back behind the camera, and Emily Blunt's Evelyn Abbott is now on the run after the events of the first time, with two kids Marcus (Noah Jupe) and Regan (Millicent Simmonds) in tow. In particular, deaf actress Simmonds was rightfully considered the breakout performer of the first film, in what was also hailed as a major moment of inclusion for deaf performers. Expect to see her making the interview show rounds again in the build-up to A Quiet Place 2, and hopefully appearing in a slew of other films.
The story appears to pick up directly after the events of the first movie, as Blunt and the kids venture out into the ruined world and run into your standard "humanity is just as dangerous as superpowered aliens" tropes, although you have to be excited to see Cillian Murphy as one of the (possibly dangerous) survivors they meet along the way. Perhaps more fascinating to fans of the original, though, is the opening sequence, which shows us some of the action that went down on "day one" of the alien invasion, as Earth descended into total anarchy as the beasts ran amok, slaughtering Earth's population. We can't wait to see what kind of inspired lunacy Krasinski has cooked up for us here.
A Quiet Place 2 is scheduled for wide release on March 20, 2020, and will attempt to best the first film's muscular $340 million global haul. Check out the full trailer below.