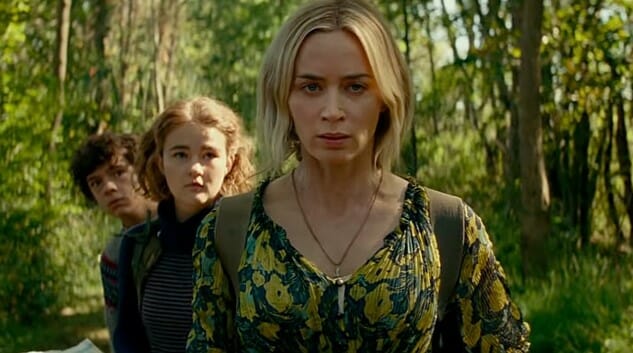 After losing its original late March release date thanks to the closure of theaters during the ongoing viral pandemic, A Quiet Place Part 2 has found itself with a new target that actually sounds a bit on the optimistic side: September 4, 2020.
The Paramount film from director (and former star) John Krasinski was just one of many major releases that fell off the release schedule when theaters began shuttering, but differs from the pack in the fact that many of the other films have already been shifted all the way to 2021. Coming back in September, on the other hand, is curiously early, and seems to imply that Paramount thinks theaters will be fully back in operation by that date.
There's a lot of uncertainty here, as even if theaters re-open in July or August, there's nothing to say they couldn't end up closing again if the virus mounts a comeback. This is exactly what happened in China, where theaters began to re-open before mounting fears of a second wave of infection forced them closed once again.
The first film, likewise directed by Krasinski of The Office fame, was a surprise major hit at the global box office, making more than $340 million and contributing to the banner year that was 2018 at the horror genre box office. A Quiet Place Part 2 will bring back the first film's remaining core cast, including Emily Blunt, Noah Jupe and deaf actress Millicent Simmonds, who was the first film's breakout star. It will also introduce new characters played by Cillian Murphy and Djimon Hounsou.
Paramount also announced that the Tom Cruise-starring Top Gun: Maverick will open in December of 2020. For now, though, check out the final trailer for A Quiet Place Part 2 below. If we're lucky, we might actually be seeing this in a movie theater come September.