Juliette Binoche Terrifies and Titillates in Stunning High Life Trailer
Image via A24
Movies
News
High Life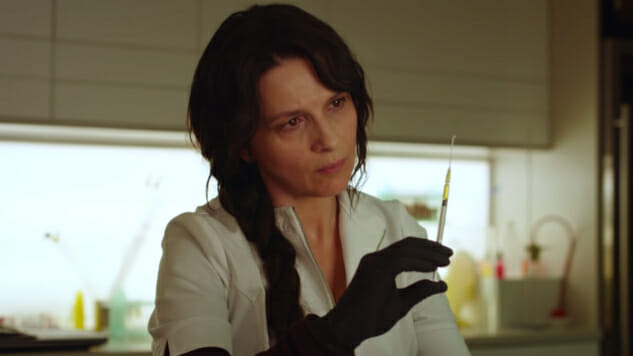 A24 has released the first trailer for director Claire Denis' English-language debut High Life, which brims with sensuality and suspense.
The film stars Juliette Binoche as a mad scientist surrounded by death-row inmates imprisoned in space. This isn't Binoche's first collaboration with Denis, as she recently appeared in the French romantic comedy Let the Sunshine In, helmed by the celebrated director. The convicts aboard this strange odyssey include André 3000 (aka André Benjamin), Mia Goth (seen most recently in Suspiria) and Robert Pattinson, who's carved out his own indie-darling niche with the likes of Good Time and Damsel.
The eerily repeated word "Da-da," echoes in the background of the trailer, hinting at a focus on the baby Pattinson's character so attentively looks after. He tells us in a gravelly voice that he and his fellow inmates were "scum, trash, refuse that didn't fit into the system until someone had the bright idea of recycling us to serve science." That someone appears to be Binoche, who strives to achieve "perfection" through her seemingly twisted lab work. The trailer itself proves as intriguing as it is enigmatic. High Life promises a warped look at what humanity becomes when we are separated from Earth and the laws of nature that bind us.
If the movie lives up to this mystifying first look, then it will be yet another feather in A24's film cap. The entertainment company has released some of the most consistently impressive projects these last few years, including Hereditary, Moonlight and Eighth Grade.
High Life hits cinemas on April 12. Watch the film's trailer and see its poster below.