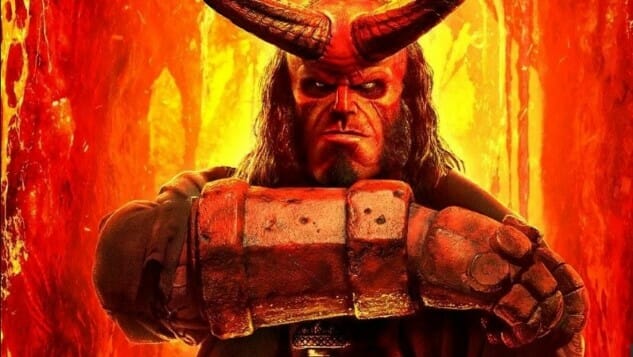 Fans of Mike Mignola's Hellboy and its previous, Guillermo del Toro-driven film adaptations weren't exactly over the moon when they got their first look at the Hellboy reboot in December. Featuring a highly comedic tone, that trailer was a far cry from the bloody, gory fantasy mayhem originally promised by director Neil Marshall, the creator of horror films The Descent and Dog Soldiers. Now, via trailer #2, we can get a clearer view of the (really quite) bloody action that Marshall was promising all along.
Suffice to say, this trailer will probably assuage some of the Hellboy and horror fans on the web. It does a better job of capturing the world-weary reluctance of Hellboy/Red as he battles monsters with his friends in the Bureau for Paranormal Research and Defense, but more than anything it reveals just how intense the film's action appears to be. People being impaled, limbs being sliced off effortlessly, toenails ripping off during transformation sequences … it's all in there. Note, we're bringing you the red-band trailer here, so you don't miss out on any of the blood—or the nice use of an F-bomb in the stinger.
Also featured heavily in the trailer is Milla Jovovich's lead antagonist Nimue, the so-called "Blood Queen," a key character in the Hellboy mythos. She appears to be getting a little bit too friendly with David Harbour's Hellboy—surely, if Liz Sherman was part of this story, she wouldn't take kindly to that. Of course, Liz isn't one of the supporting characters this time around; nor is the beloved Abe Sapien. Instead, Marshall gets to play with some new comic book supporting characters, including Ben Daimo, a Japanese-American soldier who can turn into some sort of were-jaguar. Look, this will all make a lot more sense after you watch the trailer.
Hellboy is coming soon, due to hit theaters on April 12, 2019. Check out the trailer below as hype continues to build.