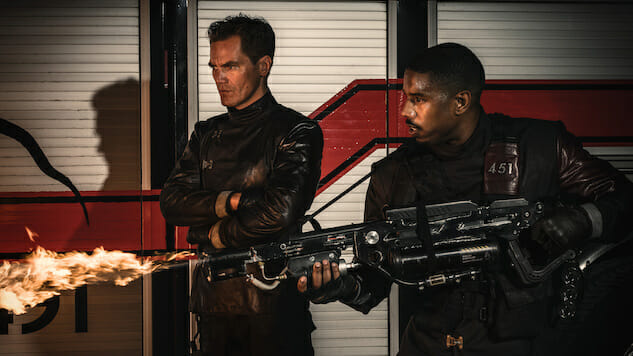 On Thursday, HBO released an official teaser trailer for their highly anticipated adaption of the Ray Bradbury classic Fahrenheit 451.
The teaser shows the literary classic Crime and Punishment being burnt before showing a set of black male hands letting go of the book. It cuts to the burning book on top of a pile of books before transitioning to a fiery smoke plume. Out of the plume emerges a figure decked in head-to-toe battle gear as a flamethrower seemingly appears before torching the stack of books.
The film stars Michael B. Jordan as protagonist Guy Montag, along with Michael Shannon as the villainous Captain Beatty. Laura Harrier, Sofia Boutella and Lilly Singh round out the film's supporting cast. Following the source material, Montag becomes discontent with his life in a knowledge-free, dystopian future as he tries to regain his humanity against incredible odds.
The production is helmed by 99 Homes director Ramin Bahrani, who co-wrote the adaption with Amir Naderi. Jordan and his production company, Outlier Productions, executive produce the project. Fahrenheit 451 premieres in spring 2018.
Watch the teaser above and see stills from the film below.