New on HBO Now: All the Movies and TV Coming in May
Images via Warner Bros. Inc.
Movies
Features
HBO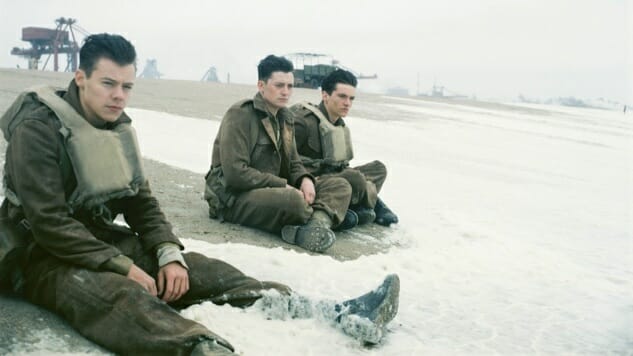 May is going to be a rollercoaster of a month for HBO subscribers. The pay-cable channel's streaming platform, HBO Now, is making a number of exciting feature film and television additions, but there are also some absolute gems leaving the service's library. Let's get down to the nitty-gritty and take a look at what's in store on HBO Now next month.
Oftentimes it's HBO's original TV programming that leads the way in this sort of monthly update, but this time, the channel's feature film additions are the strongest draw—two in particular. First and foremost, May 12 brings the theatrical premiere of Christopher Nolan's Oscar-winning World War II thriller Dunkirk, one of the most singular cinematic experiences of 2017—not to mention one of our top picks in film from last year. The film, featuring an ensemble cast of Tom Hardy, Mark Rylance, Barry Keoghan, Cillian Murphy, Harry Styles and Fionn Whitehead, follows a group of evacuating Allied soldiers who find themselves stranded in France and surrounded by the German army—their struggles to escape play out by land, sea and sky, with these three plot lines operating on three distinct timelines. The final product, undeniably gripping and mostly dialogue-less, is "a staggering, almost fantastical achievement," as Will Leitch wrote in his review for Paste. Debuting a week later is HBO's original adaptation of science-fiction classic Fahrenheit 451, starring Michael B. Jordan and Michael Shannon. Ramin Bahrani directed and co-adapted the film from Ray Bradbury's 1953 novel of the same name, a dystopian tale in which Guy Montag (Jordan) is a fireman who helps to suppress free thought by burning books—starting fires, rather than fighting them—under the command of Captain Beatty (Shannon). Fahrenheit 451, which also stars Sofia Boutella (The Mummy), Lilly Singh (Bad Moms), Martin Donovan (Ant-Man) and Keir Dullea (2001: A Space Odyssey), premieres on HBO on Saturday, May 19 at 8 p.m. ET. Those are far from the only enticing feature films heading to HBO Now next month—incoming on the first of the month are James Cameron's visually stunning epic Avatar (which—fun fact—remains the highest-grossing movie of all time), early-2000s screwball comedies Dude, Where's My Car? and Eurotrip, Zach Braff dramedy Garden State, David Cronenberg's Hollywood tale Maps to the Stars, Oscar-nominated true racehorse story Seabiscuit, steamy 2002 dramedy Secretary (which—another fun fact—did Fifty Shades better than Fifty Shades ever did, before Fifty Shades ever did it) and classic late-'90s rom-com You've Got Mail, among others. And there are still more movies coming later in May, including The Lego Ninjago Movie (May 5), Patti Cake$ (May 26) and Fist Fight (May 27), so start making room in your queue.
HBO Now's incoming slate isn't slouching in the TV department, either—two acclaimed HBO original comedies, one just finding its feet and the other firing on all cylinders, air their season finales next month. The former is Barry, starring Bill Hader as a hitman who moves out to L.A. and catches the acting bug, which airs its season one final on May 13; the latter is Silicon Valley, the Emmy-winning ensemble comedy that spins gold from its tech-mecca satire, which wraps its fifth season on the same date. Both series were recently renewed for second and sixth seasons, respectively, so if you end up flying through the new episodes in May, rest assured there will be more. And that's not all: HBO debuts its original sports docu-series Being Serena on May 2, giving viewers unprecedented access to tennis legend Serena Williams over the course of her pregnancy, new motherhood and marriage, all while documenting the iconic athlete's journey back to supremacy on the court. The five-part documentary series airs new episodes at 10 p.m. EDT each Wednesday night, with the finale airing on May 30. And speaking of documentaries, HBO Now also has a pair of original docs on the way, including A Dangerous Son, which HBO describes as "an eye-opening documentary that tells the stories of children with serious mental illness and their parents' desperate, ongoing efforts to obtain treatment before they harm themselves or others," and The Final Year, "an enlightening behind-the-scenes look at Barack Obama's foreign policy team in its last year in office"—those debut on May 7 and 21, respectively.
Our apologies in advance for ending on a down note, but HBO Now is losing some stone-cold classics on May 31. Chief among them is The Exorcist, which we named the best horror film ever made last summer. William Friedkin's horrifying and iconic adaptation of William Peter Blatty's novel, which Paste's Jim Vorel calls "a great film by any definition," won Oscars for its sound and screenplay, and has been scaring the absolute bejesus out of even the hardiest viewers ever since its 1973 release—all that's to say you simply must watch this film … if you have the nerve. Other outgoing films of note include animated Disney classic 101 Dalmatians (and its sequel, 102 Dalmatians, featuring one additional Dalmatian), 2003's Ben Affleck-led take on Daredevil, Oscar-nominated 1991 tearjerker Fried Green Tomatoes, Clint Eastwood's acclaimed drama Gran Torino, action-stuffed assassin sequel John Wick: Chapter 2, Oscar-winning epic The Last of the Mohicans (starring the newly retired Daniel Day-Lewis), M. Night Shymalan's surprise-smash thriller Split and disappointing 2016 blockbuster X-Men: Apocalypse, among others.
Find HBO's full May slate of incoming and outgoing programming below.
Original Programming:
A Dangerous Son (5/7)
2018 Rock and Roll Hall of Fame Induction Ceremony (5/5)
Fahrenheit 451 (5/19)
The Final Year (5/21)
The Tale (5/26)
Season Finales:
Barry, Season 1 Finale (5/13)
Silicon Valley, Season 5 Finale (5/13)
Sports:
Being Serena, Documentary Series Premiere (5/2)
Being Serena, Documentary Series Finale (5/30)
Theatrical Premieres:
Wolves at the Door, 2017 (5/1)
Lady Macbeth, 2017 (5/3)
The Lego Ninjago Movie, 2017 (5/5)
Dunkirk, 2017 (5/12)
Patti Cake$, 2017 (5/26)
Fist Fight, 2017 (5/27)
Estrenos:
Hijo por Hijo (AKA Child for Child), 2017 (5/1)
La cordillera (AKA The Summit), 2017 (5/4)
La educación del Rey (AKA Rey's Education), 2017 (5/11)
Asian Pacific American Visionaries Short Film Competition Finalists:
Jiejie, 2018 (5/7)
June, 2018 (5/7)
Remittance, 2018 (5/7)
Starting May 1:
A Sound of Thunder, 2005
Avatar, 2009
Cleopatra, 1963
Dead Calm, 2000
Dude, Where's My Car?, 2000
Eurotrip (Unrated Version), 2004
Garden State, 2004
In the Cut (Director's Cut), 2003
Kill the Messenger, 2014
Maps to the Stars, 2015|
The Newton Boys, 1998
Seabiscuit, 2003
Secretary, 2002
Star Trek: Nemesis, 2002
You've Got Mail, 1998
Ending May 31:
101 Dalmatians, 1996
102 Dalmatians, 2000
Bachelor Party ('84), 1984
Daredevil, 2003
The Exorcist, 1973
Fried Green Tomatoes, 1991
Gran Torino, 2008
Ice Age: Collision Course, 2016
John Wick: Chapter 2, 2017
The Last of the Mohicans, 1992
The Shack, 2017
Something's Gotta Give, 2003
Split, 2017
X-Men: Apocalypse, 2016