New on HBO Now: All the Movies and TV Coming in December
Photo by John P. Johnson/HBO
Movies
Features
HBO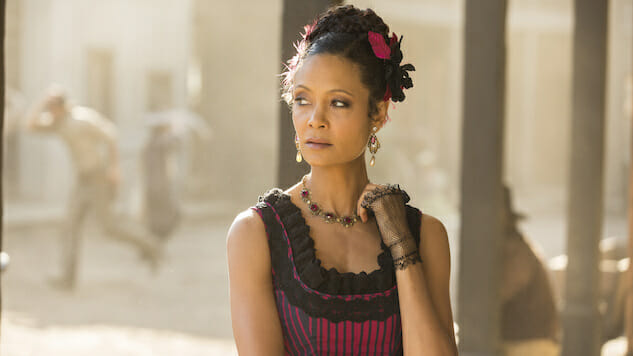 The end of the year sees a lot of movies leaving HBO Now, along with the finales of a number of its own shows. Most notably, the sensation of the season, Westworld, airs its season finale on Dec. 4, and we're not going to see it again for a while after that, so enjoy it while you can. Insecure and Divorce are also ending this month, but if Twitter is anything to go by, people don't have time for Issa Rae or Sarah Jessica Parker when there are Westworld theories to argue over.
In a bit of good news, though, Pete Holmes' new comedy special Faces and Sounds debuts on Dec. 3. In non-HBO projects, Key and Peele's underappreciated Keanu makes its streaming debut on HBO, along with the Coen brothers' charming if underwhelming Hail, Caeser!
If you're looking for holiday-themed fare, you've got a couple of good selections for any mood: Bad Santa is there if you're looking for a raunchy comedy, Jim Carrey's How the Grinch Stole Christmas is good for some over-the-top family fun, Miracle on 34th Street brings that classic Christmas vibe, and if you're looking for something overrated and mediocre, there's Home Alone. Along with those movies, HBO also has the uncontested greatest Christmas movie of all time: The Muppet Christmas Carol.
Unfortunately, the end of the year seems to be signaling a mass exodus from HBO Now, with titles like Snakes on a Plane, Scarface, Dog Day Afternoon, Dumb and Dumber, High Fidelity and a lot more leaving the service.
You can see the full list of HBO Now's comings and goings below.
New Original Programming:
Pete Holmes: Faces and Sounds (12/3)
The Trans List (12/5)
Vice Special Report: A House Divided (12/9)
HBO First Look: Hidden Figures (12/12)
Risky Drinking (12/19)
Every Brilliant Thing (12/26)
Season Finales:
Tracey Ullman's Show (12/2)
Westworld, Season 1 (12/4)
Divorce, Season 1 (12/11)
Chumel con Chumel Torres, Season 1 (12/19)
Magnica '70, Season 2 (12/19)
Theatrical Premieres:
Keanu, 2016 (12/3)
Self/Less, 2015 (12/9)
My Big Fat Greek Wedding 2, 2016 (12/10)
Midnight Special, 2016 (12/17)
Puerto Ricans in Paris, 2015 (12/23)
Hail, Caesar!, 2016 (12/24)
Criminal, 2016 (12/31)
Estrenos:
Luces brillantes (aka Shine a Light), 2015 (12/1)
Baires, 2015 (12/2)
Vacaciones en familia (aka Family Holidays), 2014 (12/9)
Guerras ajenas (aka Wars of Others), 2016 (12/14)
Starting Dec. 1:
Any Given Sunday, 1999
Assassins, 1995
Cop Land, 1997
The Family Man, 2000
Gentleman Broncos, 2009
The Green Mile, 1999
High Anxiety, 1977
License to Wed, 2007
Mr. Baseball, 1992
My Big Fat Greek Wedding, 2002
My Blue Heaven, 1990
P.S. I Love You, 2007
Redemption, 2013
A Serious Man, 2009
Singles, 1992
The Sisterhood of the Traveling Pants 2, 2008
They Live, 1988
Wildcats, 1986
Ending Dec. 31:
Bad Santa, 2003
Black Sea, 2014
The Bourne Ultimatum, 2007
The Boy Next Door, 2015
Catacombs, 2007
Deep Blue Sea, 1999
Dog Day Afternoon, 1975
Dumb and Dumber, 1994
Eight Legged Freaks, 2002
The Fantastic Four, 2015
Ghost, 1990
High Fidelity, 2000
Joy Ride, 2001
Jupiter Ascending, 2015
Lost in Space, 1998
The Man from U.N.C.L.E., 2015
MI-5, 2015
Mistress in America, 2015
Naked Lunch, 1991
National Treasure, 2004
Next Friday, 2000
Not Another Teen Movie, 2001
Ocean's Thirteen, 2007
Pan, 2015
Poltergeist, 1982
Reindeer Games, 2000
Say Anything…, 1989
Scarface, 1983
Scent of a Woman, 1992
Snakes on a Plane, 2006