New on HBO Now: All the Movies and TV Coming in January
Image courtesy of Lionsgate
Movies
Features
HBO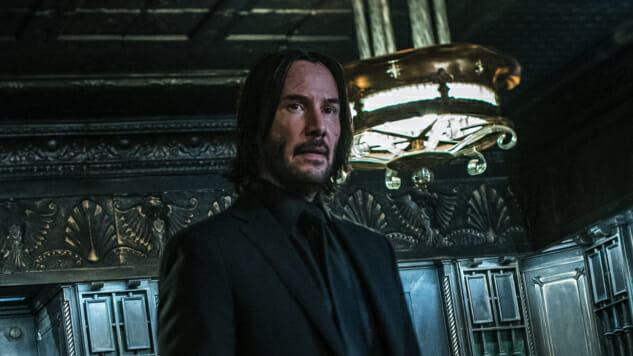 2020 is very nearly upon us, and if HBO has anything to say about it, we'll all be kicking off the new year by hunkering down on our couches and watching a whole lot. Here are all the January film and television additions worth noting in these waning days of 2019.
We'll begin in movies, where HBO's best incoming title happens to have its most unwieldy title: John Wick: Chapter 3 – Parabellum (Jan. 11, 2020), the latest entry in the acclaimed action franchise, starring the one and only Keanu Reeves as its eponymous master assassin. We ranked Parabellum as 2019's best movie to that point in June, praising it as "as much a blast of blood and guts as it is an immersive menagerie of pain, a litigation of the ways in which we imbibe and absorb and demand violence, in which we hyperstylize death"—in other words, the squeamish need not apply, but Parabellum is a must-see for action junkies. Other theatrical premieres on the way include star-studded creature feature Godzilla: King of the Monsters (Jan. 18, 2020), Nicholas Hoult-led literary biopic Tolkien (Jan. 5, 2020), art heist crime drama American Animals (Jan. 1, 2020), Lenny Abrahamson's (Room) Domhnall Gleeson-starring horror mystery The Little Stranger (Jan. 7, 2020) and The Conjuring Universe's The Curse of La Llorona (Jan. 25, 2020). And Jan. 1, 2020, brings us a number of noteworthy older titles, including Martin Scorsese's 2010 psychological thriller Shutter Island, Clint Eastwood/Jeff Bridges heist picture Thunderbolt and Lightfoot, Tom Hooper's Oscar-winning 2012 take on Les Miserables, the third Madagascar and Scary Movie films, James L. Brooks' Adam Sandler-starring Spanglish, and the extended version of Fast & Furious franchise entry Fast Five.
HBO is putting plenty on the small screen to kick off 2020, as well, including both the premieres of two new series and the returns of two fan favorites. Making their debuts in January are The Outsider (Jan. 12, 2020) and Avenue 5 (Jan. 19, 2020)—the former is a 10-episode supernatural drama adapting Stephen King's 2018 bestseller of the same name, starring Ben Mendelsohn and Jason Bateman (who also directs a handful of episodes), while the former is the new space tourism comedy from Veep's Armando Iannucci, starring Emmy nominee Hugh Laurie as the captain of an interstellar pleasure cruiser. The returning favorites, meanwhile, are The New Pope (Jan. 13, 2020), a new-look follow-up to 2017's Jude Law-led The Young Pope that adds Oscar nominee John Malkovich, and the 10th season of long-running comedy Curb Your Enthusiasm (Jan. 19, 2020), in which the inimitable Larry David plays everyone's favorite socially singular curmudgeon, this time opposite Jeff Tweedy of Wilco.
That's the good news. The bad news is plenty of worthwhile films will disappear from HBO in January, including Amelie, The Hate U Give, The Old Man and The Gun, Red Sparrow, Signs, Thoroughbreds and, most importantly of all, the immaculate gift to humankind that is Paddington 2. All of those titles exit on Jan. 31, 2020, so resolve to see them if you haven't already … especially Paddington 2. It's like a warm blanket for your soul.
Find HBO's January sizzle reel and slate below.
Theatrical Premieres:
American Animals (1/1)
Breakthrough (1/2)
The Aftermath (1/4)
Tolkien (1/5)
The Little Stranger (1/7)
John Wick: Chapter 3 — Parabellum (1/11)
Godzilla: King of the Monsters (1/18)
The Curse of La Llorona (1/25)
Series Premiere:
Mamon, Series Premiere (1/6)
The New Pope, Series Premiere (1/13)
The Outsider, Series Premiere (1/12)
Real Time With Bill Maher, Season 18 Premiere (1/18)
Avenue 5, Series Premiere (1/19)
Curb Your Enthusiasm, Season 10 Premiere (1/19)
Estrenos:
Casi famoso (AKA Almost Famous), 2019 (1/1)
Vaca, 2018 (1/1)
Niña errante (AKA Wandering Girl), 2018 (1/3)
Tejano, 2018 (1/17)
Starting January 1:
Another Stakeout, 1993
Arthur, 1981
Arthur 2: On the Rocks, 1988
Cat People, 1982
College, 2008
Fast Five (Extended Version), 2011
Filly Brown, 2013
Galaxy of Terror, 1981
Head Office, 1986
The Hitcher, 1986
Judy Moody and the Not Bummer Summer, 2011
Les Miserables, 2012
Madagascar 3: Europe's Most Wanted, 2012
Mr. Holland's Opus, 1996
Odd Jobs, 1986
The Odd Couple II, 1998
Rock the Kasbah, 1991
The Russia House, 1990
Scary Movie 3, 2003
Seventh Son, 3015
The Shooting, 1967
Shutter Island, 2010
Spanglish, 2004
Stakeout, 1987
Sweet Dreams, 1985
Switch, 1991
Teeth, 2008
The Thing About My Folks, 2005
Thunderbolt and Lightfoot, 1974
Ending January 17:
Getaway, 2013
Ending January 22:
Elektra (Director's Cut), 2005
Ending January 31:
Amelie, 2001
Arachnophobia, 1990
Big Business, 1988
Bringing Down the House, 2003
Calendar Girls, 2003
Conan the Barbarian, 1982
Conan the Destroyer, 1984
Conviction, 2010
Deliver Us From Eva, 2003
The Dilemma, 2011
Dreamer: Inspired By a True Story, 2005
Ever After: A Cinderella Story, 1998
Going the Distance, 2010
The Hate U Give, 2018
Honey, 2003
In Her Shoes, 2005
The Jackal, 1997
Just Like Heaven, 2005
Kung Fu Panda 2, 2011
Life As We Know It, 2010
Me, Myself & Irene, 2000
The Old Man & The Gun, 2018
Out Cold, 2002
Paddington 2, 2018
Red Sparrow, 2018
Rescue Dawn, 2007
Robin Hood, 2018
Search Party, 2016
Signs, 2002
Sky Captain and the World of Tomorrow, 2004
Stay Alive, 2006
Thoroughbreds, 2018
Wild Hogs, 2007