Youths Visit "Extreme" Haunted House in Haunt Trailer; It Doesn't End Well
Images via Momentum Pictures
Movies
News
The Haunt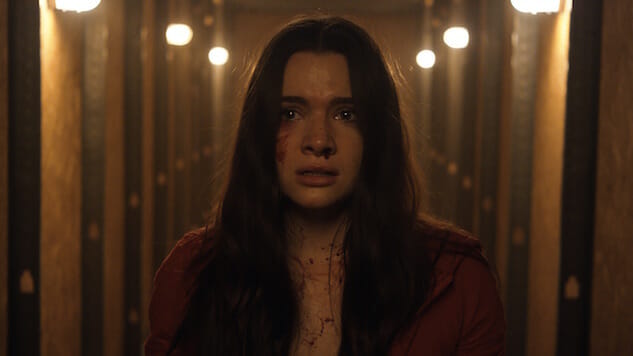 The "young people and their misguided decisions" trope is practically Horror 101, and A Quiet Place writers Scott Beck and Bryan Woods exploit it in a new trailer for their latest, Haunt.
The trailer gives off heavy The Strangers meets Hostel vibes—masked murderers knock off college kids looking for a good time —which makes sense considering gorehound and torture-porn icon Eli Roth's involvement as producer. The film's official synopsis seems to solidify that theory:
On Halloween, a group of friends encounter an "extreme" haunted house that promises to feed on their darkest fears. The night turns deadly as they come to the horrifying realization that some monsters are real.
But let's be honest. Anyone lured by the words "extreme haunted house" probably deserves to be stalked by psychopaths in clown masks in a grimy warehouse, right?
Beck and Woods pulled double duty on this one, co-directing as well as co-writing Haunt. The film stars Will Brittain (Everybody Wants Some!!), Lauryn Alisa McClain (Descendants: Wicked World) and Katie Stevens (The Bold Type). Stevens appears to have all the trappings of the horror movie "final girl," but Beck insists there's more to her story, telling EW:
Her character is this young woman who's in this horrifyingly abusive relationship. It all comes to a head on the week leading up to Halloween. The whole idea is, like, Can I just let go, and have a good night, and move past this? All the while, we think that her ex- is following her, stalking her. We're trying to merge this character story with kind of slasher tropes.
Haunt is scheduled for release in theaters, on demand and digital Sept. 13. Watch the trailer below.