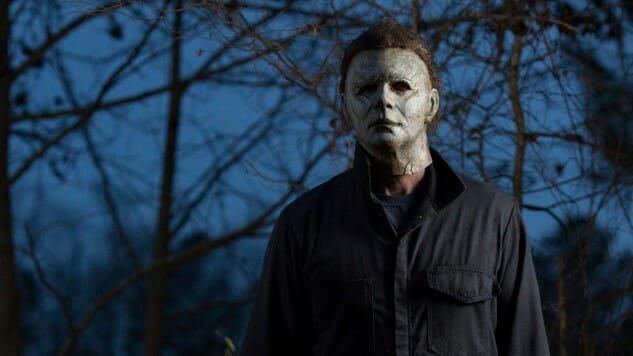 Blumhouse's Halloween is set for a record-breaking opening weekend.
Universal currently reports that the latest Michael Myers installment grossed $7.7 million in Thursday previews, per Box Office Mojo. With this, Halloween breaks this year's horror record, previously set by The Nun's $5.4 million gross, and puts it on track for a franchise record-breaking $70 million, as Box Office Mojo currently projects.
That number also trails just behind a number of other box-office records.
Halloween's Thursday preview numbers come just behind the Blumhouse record set by Paranormal Activity 3 in 2011, which grossed $8 million before a $52.5 million opening weekend, although Halloween, bolstered by strong reviews, should easily break that Blumhouse opening weekend record later this weekend.
The number comes as a minor disappointment after industry sources at Deadline had estimates at $10 million last night, which would have tied it with Venom's record-breaking Thursday numbers from just two weeks ago, and would have put it on track to tie that film's October record-breaking $80 million opening weekend.
Either way, it's a huge outing for 2018's Halloween, which took the radical choice of retconning the entire series minus the 1978 John Carpenter original, and which marks the return of original star Jamie Lee Curtis for the first time since 2002's much-reviled Halloween: Resurrection, which easily landed at the bottom of Paste's Halloween rankings. Our review of the latest Halloween highlighted Curtis' standout performance in the latest installment of the long-running franchise, and nostalgia for the horror veteran could fuel an opening weekend that surpasses even the current franchise record-breaking projections.