Guillermo del Toro to Be Honored with Star on Hollywood Walk of Fame
Photos by Carlos Alvarez/Getty, Christopher Polk/Getty
Movies
News
Guillermo del Toro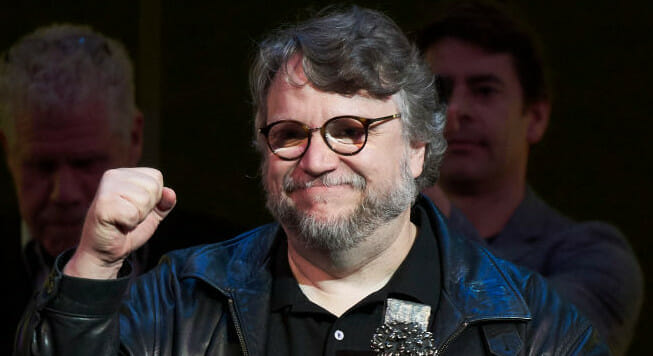 Known for numerous films, many of them in the horror genre, director Guillermo del Toro will be honored with a star on the Hollywood Walk of Fame, the Hollywood Chamber of Commerce announced Tuesday.
The director is most notable for films such as Pan's Labyrinth, both Hellboy films with Ron Perlman and, most recently, his 2017 film The Shape of Water, which garnered both a directing award for del Toro and the award for Best Picture, among others.
Del Toro's first major feature film was the 1993 horror film Cronos, which starred Perlman, Federico Luppi and Claudio Brook, to name a few. The film marked not only his feature film debut, but also his debut feature as a screenwriter after a career as a special effects makeup artist.
Other than directing, del Toro has written the majority of his films. Del Toro wrote the scripts for The Hobbit trilogy, Pacific Rim, The Strain and Don't Be Afraid of the Dark. The film aficionado has also produced for a slew of animated films at DreamWorks Animation, including both Puss in Boots films, the Kung Fu Panda trilogy and Rise of the Guardians.
More recently, del Toro is gearing up for the release of his adaptation of Scary Stories to Tell in the Dark. The film is an adaptation of Alvin Schwartz's books series, and del Toro not only wrote the screenplay for the film, but is also producing it. André Øvredal is directing the film.
Directorially, del Toro is currently working on a darker reimagining of Pinocchio for Netflix and a remake of the 1947 film Nightmare Alley. Otherwise, he's producing Antlers with Keri Russell and Jesse Plemons, Robert Zemeckis' adaptation of Roald Dahl's The Witches and the forthcoming Justice League Dark, which is in its early stages after previously being rumored for years.
The busy director, producer and writer is set to be honored with his star on Aug. 6, and it will be located on Hollywood Boulevard by The Line Store. Director J.J. Abrams and singer/songwriter Lana Del Rey, of all people, will appear alongside Hollywood Chamber of Commerce President and CEO Rana Ghadban to unveil the star.
"Guillermo del Toro is a director with one of the most creative and vivid imaginations. He has his pulse on a realm of fantasy that has captivated and astounded audiences!" Ana Martinez, Producer of the Hollywood Walk of Fame, said in a statement. "The Hollywood Chamber of Commerce is proud to honor him for his historic film work!"