Watch Robert Pattinson Do Everything He Can to Scrub the Twilight Off in New Trailer for A24's Good Time
Image via A24/YouTube
Movies
Video
Good Time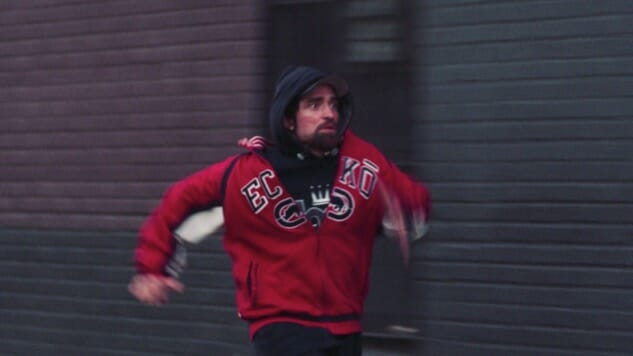 Robert Pattinson suffers from what we'll call the "Star Wars prequel" curse. Pattinson—like Hayden Christensen before him—starred in a massively popular, but poorly written series of films that caused his fame to skyrocket for all the wrong reasons. Edward Cullen and Anakin Skywalker are both moody, horny teenagers forced to pursue women using such cringe-inducing lines as, "You better hold on tight spidermonkey," and, "I don't like sand. It's coarse and rough and irritating and it gets everywhere. Not like here. Here everything is soft and smooth," respectively. After that shit passes your lips in front of millions and millions of moviegoers, it's going to be difficult for anybody to ever take you seriously again.
Which brings us to Good Time. To combat that mopey emo image so carefully cultivated by the Twilight films, Pattinson is starring in a balls-out crime thriller in the vein of some of Scorsese's greatest films. From his crazy, bleached hair to his unkempt beard, Pattinson is doing everything in his power to separate himself from the sparkly manboy that titillated teenagers the country over. On top of all that, the actor even pulls off a convincing Queens accent—no small feat for the England native.
Speaking of Scorsese, Good Time's directors, Josh and Benny Safdie, are about as literally Scorsese-endorsed as anybody could be. The legendary director is helping produce their next movie after this one.
The trailer itself is all madcap action, from lots of punched faces, to frantic phone calls, to crazy neon-lit amusement parks. The music itself is a trippy '80s synth track that just oozes style. Pattinson's character is apparently racing to secure money for his brother's release from Riker's Island prison before he gets beaten to death in there. Of course, it's not like he has a ton of money for bail, so he apparently robs a bank. Also, Jennifer Jason Leigh is in there somewhere, which practically guarantees a certain amount of grittiness. It's a visually arresting and exciting trailer that seems to portray a movie with nonstop action.
The A24-distributed movie already made its debut at Cannes last month, and the reviews have been majorly positive. As of this writing, it's currently rocking a 94 percent on Rotten Tomatoes, with only two negative reviews. Be sure to watch the entire trailer above before the film's Aug. 11 release.