Annie Potts May Reunite with the Original Ghostbusters Team in Jason Reitman's Sequel
Movies
News
ghostbusters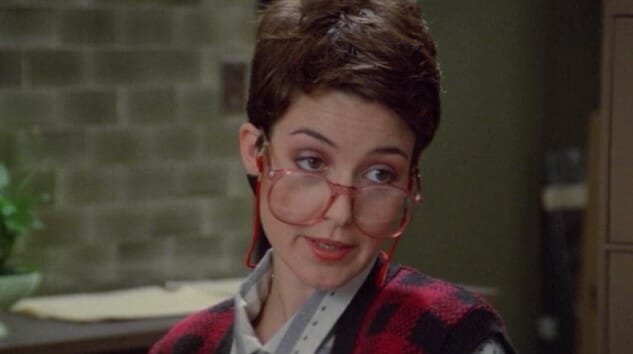 We're not going to go so far as some outlets, reporting that "Annie Potts confirms return as Janine" in Jason Reitman's Ghostbusters sequel, but let's just say that the outlook seems pretty favorable, yeah? Potts is the latest performer from the original Ghostbusters cast to give a vague indicator of the fact that they'd LIKE to return for Reitman's film, which she said to Los Angeles' KTLA 5, saying the following: "I have heard some things. If it's true, what I've heard—yeah, I think it's gonna happen. I think I will."
Works for us. Potts would be back as the perpetually acerbic Janine Melnitz, the overworked and harried receptionist for the Ghostbusters, after appearing in a similar cameo in 2016's ill-fated reboot. Considering that this film takes place in the original Ghostbusters timeline, however, following the events of the first film and Ghosbusters 2, one would hope that Janine has worked her way up in some regard from simply doing ghosbusting clerical work. Do 30-plus years of service not demand some kind of stock options or profit sharing? Of course, we suppose it's possible that Janine got married to Rick Moranis' Louis Tully and spent the last few decades raising some kids—perhaps she's only recently returned to the Ghostbusters workforce?
Reitman has been making the convention rounds as of late, appearing at the 2019 Ghostbusters Fan Fest to speak about the upcoming sequel. At that engagement, he said that the script had found its way into the hands of all the key players from the original film, and seemed hopeful about getting everyone on board—even the notoriously recalcitrant Bill Murray. As he said then: "Sigourney has read the screenplay…Dan has read it…Ernie's read the script…Bill Murray has read the script."
Are those real confirmations? No, but given that Weaver has been implying her involvement in the project, it would certainly make sense for the other original cast members to be returning as well. The only one missing would sadly be Egon/Harold Ramis, who passed away in 2014.
The new film will of course be introducing some new characters to the Ghosbusters universe as well, including ones played by Finn Wolfhard, Carrie Coon and Mckenna Grace. Wolfhard or Grace portraying children of the original cast members would of course be a natural way to tie the two generations together.
Regardless, we really don't have too long to wait on this fast-moving project. It still has a July 10, 2020 release date penciled in, which means we should see more casting confirmations and production getting underway in the near future.