Multiple Production Companies to Boycott Georgia Film Productions Over New Abortion Law
Photos by Dia Dipasupil/Getty, Jon Kopaloff/Getty, Matt Winkelmeyer/Getty
Movies
News
Georgia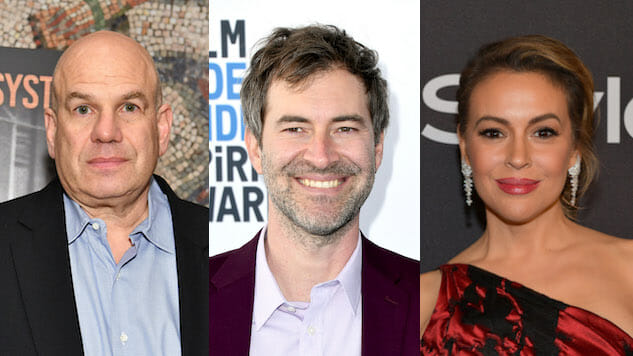 Several production companies have come forward in the last few days to announce that they will no longer produce films in Georgia as long as the state's new abortion law stands. The law, referred to by legislators as a "fetal heartbeat bill," would make it illegal for Georgia women to get an abortion after the fifth or sixth week of their pregnancy. This would criminalize the vast majority of abortions in the state, as many women don't even find out they're pregnant until after that cutoff point.
Among the first producers to come out against the bill was David Simon, creator of The Wire. Simon announced on Wednesday that his production company Blown Deadline Productions wouldn't film anything in the state as long as the bill is in effect.
I can't ask any female member of any film production with which I am involved to so marginalize themselves or compromise their inalienable authority over their own bodies. I must undertake production where the rights of all citizens remain intact. Other filmmakers will see this. https://t.co/V2xDPKiMpo

— David Simon (@AoDespair) May 8, 2019
He later tweeted, "Our comparative assessments of locations for upcoming development will pull Georgia off the list until we can be assured the health options and civil liberties of our female colleagues are unimpaired."
Mark Duplass also announced that his Duplass Brothers Productions would halt all production in Georgia, and he called on others to do the same.
Don't give your business to Georgia. Will you pledge with me not to film anything in Georgia until they reverse this backwards legislation?

— Mark Duplass (@MarkDuplass) May 9, 2019
Multiple other companies have since joined the boycott, including CounterNarrative Films and Christine Vachon's Killer Films, which has produced Oscar winners like Boys Don't Cry and Carol.
Killer Films will no longer consider Georgia as a viable shooting location until this ridiculous law is overturned.

— Christine Vachon (@kvpi) May 9, 2019
Several actors have also come out against the legislation. Busy Phillips spoke about her own experience with abortion on her show Busy Tonight and condemned the legislation for stripping away women's rights. Alyssa Milano also submitted a letter to Gov. Brian Kemp before the law was passed that read in part, "We want to stay in Georgia. We want to continue to support the wonderful people, businesses, and communities we have come to love in the Peach State. But we will not do so silently, and we will do everything in our power to move the industry to a safer state for women if H.B. 481 becomes law." The letter was signed by more than 50 other high-profile actors, including Don Cheadle, Sarah Silverman, Mia Farrow and Alec Baldwin. Milano has already confirmed to BuzzFeed News that she will honor the pledge now that the legislation has been passed.
While most of the response to these actions from the pro-choice community has been positive, many have raised concerns over the effect this potential boycott could have on those working in the Georgia film industry. Simon responded to one such criticism by saying he was acting only out of responsibility for the people he employs, not out of advocacy for the Georgia film industry. Others, like Duplass, have tried to open a dialogue about how best to serve those in the film industry while still sending a clear message that this kind of legislation will not be tolerated. Duplass compared the potential boycott to supporting unions during a strike, admitting that "it can really suck in the short term for a potentially greater, long-term good."
The Georgia film industry has grown considerably in the last few years, due in large part to a 20% tax credit for productions in the state. Kemp said this year that it employs about 200,000 Georgians and brings in billions of dollars in revenue to the state each year. It's possible these financial incentives will be enough to keep bringing productions to the state regardless of the boycott, in which case these companies wouldn't be contributing to too much of a net loss in jobs for the state by speaking out.
Either way, if the bill is overturned, it will likely happen in the judicial arena. Several other states have proposed similar legislation that's been deemed unconstitutional because it violates the decision in Roe v. Wade. The ACLU and Center for Reproductive Rights have also vowed to fight the legislation wherever they can.
Meanwhile, Georgia is the fourth state to pass this kind of legislation in 2019, along with Ohio, Mississippi and Kentucky. Those states have become just as dangerous for women as Georgia has, and they don't have a tax credit that makes big Hollywood names pay attention. Kentucky's heartbeat bill has been temporarily blocked in court, but Ohio and Mississippi's bills are set to go into effect on July 1, even sooner than Georgia's, so every voice matters in the meantime.