Watch Will Smith and His Doppelganger Go to War in New Gemini Man Trailer
Images via Paramount Pictures/YouTube
Movies
News
Gemini Man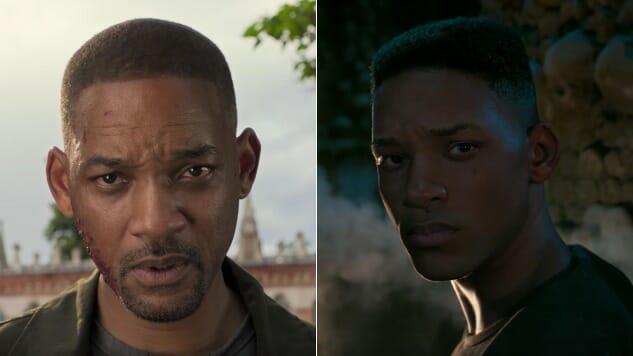 Fresh off releasing Wednesday's behind-the-scenes featurette about the facial re-imaging technology used in Gemini Man, Paramount Pictures has unveiled the second official trailer for the forthcoming Ang Lee sci-fi thriller.
If you aren't up to date on the ambitious Will Smith-fronted project, Gemini Man focuses on a hitman being hunted by a younger version of himself—both of whom are portrayed by, well, Smith. As we learned in yesterday's featurette, the process of digitally recreating a 23-year-old Smith required intricate motion-capture and digital facial-replacement technologies that went beyond "de-aging" techniques.
Though most of the footage in the new trailer is recycled from last month's original trailer, we're given additional scenes of Smith and his doppelganger riding motorbikes (of which there are many), Parkouring off terraces and sporting weird, hybridized welding masks. Masked gunman walk through fire, Mary Elizabeth Winstead wields two different types of guns and the virtual Smith is still crying in three-fourths of his cuts in the trailer.
The trailer even begins with a faux Fresh Prince-era Smith giving advice to his future self in a video diary staged to look like it was filmed in 1989 (because, you know, nostalgia!) that features music from—say it with us now—Jaden Smith.
Now that we think about it, the trailer is framing Gemini Man to look like Michael Bay's hot take on Baby Driver, but instead of a 23-year-old Ansel Elgort at the film's center, we're given a humanoid Smith simulation. We're okay with that.
Check out the new trailer below and review some of the film's impressive technical features here.