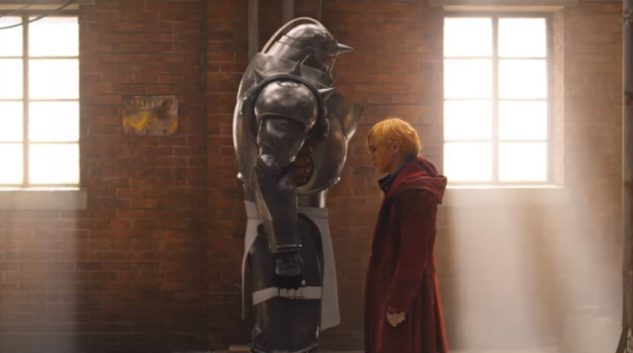 What happens when you try to condense 27 volumes of manga or 64 episodes of anime into a single, 90-minute movie? Well, judging from the trailer above, the answer would be "a whole lot, none of it good."
On Feb. 19, Netflix will be releasing the theatrical live-action film of Fullmetal Alchemist, the popular manga that ran for nine years in the 2000s. The manga was subsequently adapted into two different anime, which have aired on American television via Adult Swim's Toonami block over the years. The manga tells the story of two brothers, Ed and Al, who attempt to bring their mother back from the grave via the scientific/magical art of alchemy. However, being too inexperienced, they fail, which results in the loss of Al's body. With Al's soul bound inside a huge, walking suit of armor, the two brothers search for a way to undo the damage, while battling a collection of colorful foes who are also searching for the secrets of alchemical power.
At least, that's what happens in the manga. As for the film, it's impossible to say. Adapting this whole story into one feature film is a Herculean, probably impossible task, which is sure to result in many characters and plot points being excised for the sake of expediency. The film was released in Japan back in December, where it reviewed poorly.
This doesn't 100 percent reflect on Netflix, as they didn't produce the movie, but they did seek to acquire it. Much has been made of late of the seemingly lax standards at the world's largest streaming service, which has been acquiring movies left and right, regardless of their apparent merit. One assumes they also wanted the rights to Fullmetal Alchemist because they've been committing more resources toward anime, with films such as Godzilla: Planet of the Monsters and the original series Castlevania—which is awesome, by the way.
If watching the above trailer, with its wild swings in musical tone, doesn't throw you off, Fullmetal Alchemist hits Netflix on Feb. 19.