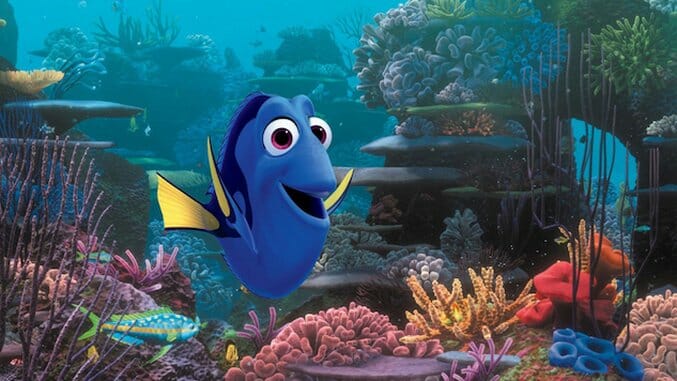 Finding Nemo is one of the most colorful and visually adventurous films in Pixar's history, with its entwined coral reefs and teeming, textured expanses of schools of fish—but even in its most profound moments of danger, it only barely dived into the day-to-day realities of Dory (voiced by Ellen DeGeneres), the adorably bumbling blue tang plagued with short-term memory loss.
Finding Dory picks up a year after the events of the 2003 film. Dory is still best friends and the third wheel to clownfish Marlin (Albert Brooks) and his son Nemo (Hayden Rolence). She tests their patience on a daily basis with her neediness, requiring constant supervision lest she go rushing off into the mouth of a bigger fish.
If the original found a cuteness in Dory's handicap, there's a palpable sense of frustration with her here, whether it's the usually gregarious Mr. Ray (Bob Peterson), who dreads having to deal with Dory's constant interruptions during his class, or Marlin, who shoos her away when she wakes him up for the umpteenth time.
Marlin and Nemo are very much on the periphery in this film. This is fully Dory's journey as she searches for her parents, Jenny (Diane Keaton) and Charlie (Eugene Levy), a loving pair whose experiences encompass the trials faced by parents of children with disabilities. There's a bracing honesty to a scene in which they try to disguise their fears about Dory's future.
Starting with a sequence where a young Dory, whose sweet bug-eyed face overwhelms her tiny frame, is helped along by her parents, Dory's life is one that begins blissfully until souring. At first they cheer her every small triumph and encourage her to move past her biggest challenges. They can't keep her safe forever, and she's eventually drawn into a situation where her trademark "just keep swimming" becomes an existential mantra.
Through episodic flashbacks, Dory's childhood—and later, adulthood—is shown as a long period of loneliness. She's trapped in an endless cycle of asking others for help, only to be either ignored or asked further questions that she can't answer.
That's not to say this is Pixar's answer to Memento, but Finding Dory finds a boundless well of emotional distress in Dory's continual doubt in herself, until she hits rock bottom in a quiet episode that's reminiscent of the serenely graceful first half of WALL-E.
Like last year's Inside Out, Finding Dory is a bit too concerned about being constantly on the move, especially in a creative but overly chaotic third act set in a marine life center where Dory teams up with a cantankerous, anti-social octopus named Hank (Ed O'Neill), who's terrified of the ocean. Still, it's thematically appropriate—Dory's life is a string of scrambled thoughts, feelings and memories that only come into focus at random instances.
Loneliness recurs as a primary theme, but it's not a totally solitary adventure. There's a host of memorable characters including a farsighted whale shark named Destiny (Kaitlin Olson), a beluga named Bailey (Ty Burrell), and the unexpected reunion of two stars of The Wire as a pair of bullying seals.
Not everything works as swimmingly. A few characters like Becky, an inept bird, are nothing more than one-note jokes, and the film has less of a grasp on how to juggle Dory's tale with that of Marlin and Nemo. What the film lacks in clean-cut storytelling, though, it more than makes up for in sheer emotionality. Finding Dory is the rare sequel that repurposes the original as a foundation rather than as a cheap form of fan service. There's a winking sentimentality to lines like "We will never forget you," but these moments aren't soppy. They're a natural progression of character, and what could have been an easy cash-in becomes something surprising—a sequel that reaches new depths.
Directors: Andrew Stanton, Angus MacLane
Writers: Andrew Stanton, Victoria Strouse, Bob Peterson
Starring: Ellen DeGeneres, Albert Brooks, Ed O'Neill, Kaitlin Olson, Ty Burrell, Diane Keaton, Eugene Levy, Hayden Rolence
Release Date: June 17, 2016