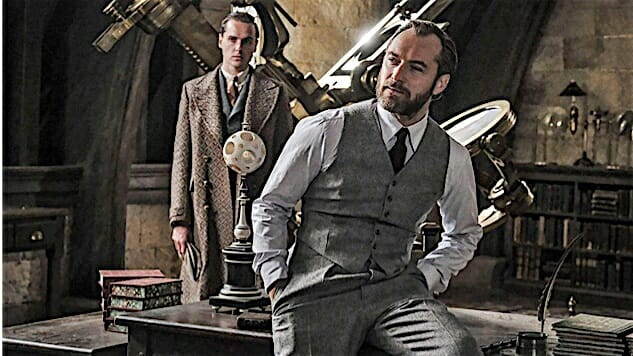 With each successive film set in the Harry Potter universe, the presentation of the Wizarding World becomes more honed and more visually wondrous, as if the very moment of "wow!" can be distilled and purified into a concoction that will keep a viewer's mouth permanently agape. David Yates' Fantastic Beasts: The Crimes of Grindelwald may represent the apex of this process, which eschews the mundane for the magical. There are wizards aplenty, apparating right and left (and up and down); there are coruscating energies contained and unleashed; and there are, of course, lots of fantastic beasts.
If only it was all in service of a good story, or even a decent one. Instead, characters, creatures and many a plot device are dumped out on the floor at the feet of the viewer. Like a sack of shiny baubles, there may be plenty of sparkle, but the story being pieced together from the jumble is told with all the narrative flair—and nearly equal amounts of exposition—of a Wikipedia entry.
Taking place soon after the events from the first film, and following an escape opening sequence by the titular wizard (the problematical Johnny Depp), Fantastic Beasts: The Crimes of Grindelwald starts off in terms of character development pretty much where the previous film left off. Newt Scamander (Eddie Redmayne), still resistant to being actively part of the wizarding bureaucracy, takes care of his menagerie, pines for the auror of his dreams, Tina Goldstein (Katherine Waterston), and gets marching "suggestions" from Albus Dumbledore (Jude Law). To ensure the levels of on-screen pining are kept brimming, we also meet Leta Lestrange (Zoë Kravitz) and her fiancé, Theseus Scamander (Callum Turner). After that, all that's left to do is rush comedy relief muggle Jacob Kowalski (Dan Fogler) and his wizardling Marilyn Monroe, Queenie (Alison Sudol), back to the set, and we're off to see the wizards … this time in Paris.
From here, the actual story in Fantastic Beasts: The Crimes of Grindelwald lurches to and fro like a determined drunk crossing a crowded room to confront an old flame. The intention may be simple enough, and the journey has an identifiable beginning and end, but the path taken is painful to watch and the whole trip likely a bad idea in the first place. Along the way there are ample flashbacks and dramatic reveals, but they are accompanied by perplexing character arcs and a muddled evil master plan. The acting is solid, especially for those (like Newt) who have been allowed some degree of measured, consistent character development by the writing, but the roles of Waterston's Tina and Ezra Miller's Credence have been so reduced one might think the actors were only partially available for filming. As objectionable as many find the casting of Depp, he seems a bit stymied by the film's vision of Grindelwald as an amalgam of Voldemort and Magneto. (I know I was.) And I'm not sure what Rowling and company were thinking in regard to Sudol's Queenie.
Because of these problems—as well as a multitude of other, even more mundane scripting issues—Fantastic Beasts: The Crimes of Grindelwald elicits the wrong type of wonder. You'll wonder why the film seems so uncertain as to whom its central characters are. You'll wonder why those characters do half the things they do. You'll wonder how a boat full of teleporting wizards manages to drown. But most of all, you may just wonder whether this particular branch of the Potter cinematic family tree was worth cultivating.
Director: David Yates
Writer: J.K. Rowling
Starring: Eddie Redmayne, Katherine Waterston, Dan Fogler, Callum Turner, Zoë Kravitz, Jude Law, Ezra Miller, Claudia Kim, Alison Sudol, Johnny Depp
Release Date: November 16, 2018