John Malkovich Joins Zac Efron in Ted Bundy Thriller Extremely Wicked, Shockingly Evil, and Vile
Photos by Frazer Harrison/Getty, Andrew Toth/Getty
Movies
News
Extremely Wicked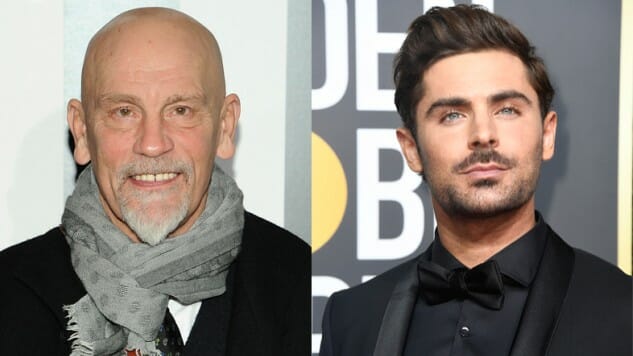 Academy Award nominee John Malkovich has joined the cast of the serial killer thriller Extremely Wicked, Shockingly Evil, and Vile, alongside Zac Efron as Ted Bundy and Lily Collins as Bundy's girlfriend Elizabeth Kloepfer. Malkovich will play Judge Edgward Cowart, the man who presided over Bundy's trial and sentenced him to death, according to THR.
Joe Berlinger will direct the film from a Black List-ed screenplay by Michael Werwie. Berlinger is known for directing several true-crime documentaries, most famously Paradise Lost 3: Purgatory about the West Memphis Three case, which earned him an Oscar nomination.
Extremely Wicked, Shockingly Evil, and Vile tells the story from the perspective of Bundy's girlfriend, who knew nothing about his murderous ways at the time. Voltage Pictures, most recently behind Wind River, is financing the film, with Efron's Ninjas Runnin' Wild Productions and COTA Entertainment producing.
Malkovich has had a career spanning over three decades and an even longer career in theater. He received his two Oscar nominations for 1984's Places in the Heart opposite Sally Field, which she won an Oscar for, and the 1993 film In the Line of Fire, opposite Clint Eastwood. Malkovich is known for his versatile work in films such as Dangerous Liaisons, Empire of the Sun, Changeling and many more. He most recently starred in Peter Berg's Deepwater Horizon with Mark Wahlberg and Louis C.K.'s I Love You, Daddy which was shelved indefinitely following sexual misconduct allegations made against C.K.
Efron most recently starred in The Greatest Showman, out now, and Baywatch opposite Dwayne Johnson. Production on Extremely Wicked, Shockingly Evil, and Vile will begin on Jan. 18.