Emily Blunt, Millicent Simmonds, Noah Jupe in Talks for A Quiet Place Sequel
John Krasinski will direct the sequel to his 2018 horror hit
Photo by Nicholas Hunt/Getty
Movies
News
Emily Blunt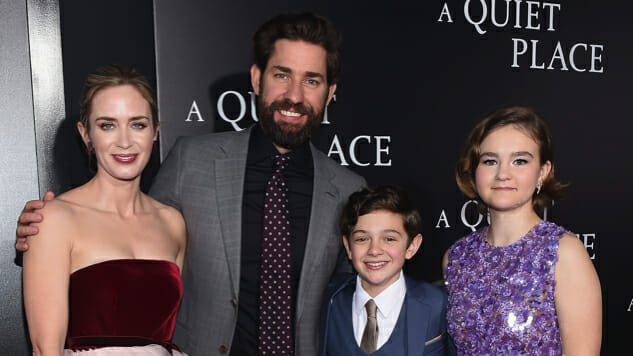 Emily Blunt, and child stars Millicent Simmonds and Noah Jupe are in talks with Paramount to reprise their roles inthe forthcoming sequel to A Quiet Place, according to THR. The sequel to Blunt and John Krasinski's smash horror hit about a family fighting for survival in a world of noise-sensitive monsters is being written right now, with Krasinski directing and penning the script.
The two child stars are under option, meaning that Paramount reserved the rights to employ them for any possible sequels, so it is almost certain they will appear in the follow-up. Blunt, who usually nets salaries in the high seven figures for studio roles, will likely take a pay cut to be involved in the film, as she did for the first installment.
The negotiations with the actors indicate that Krasinski and producers Andrew Form, Brad Fuller and Michael Bay have settled on a storyline for the follow-up between the two they had reportedly considered, including one exploring a new aspect of the post-apocalyptic world, and another following the story of Blunt's protective mother and her children.
The sequel is slated to begin shooting in late summer this year.
Find out where the first A Quiet Place landed on our list of 2018's best films.