Eighth Grade's Elsie Fisher Lands Starring Role in Musical The Shaggs
Images via Matt Winkelmeyer/Getty, Third World Records
Movies
News
Elsie Fisher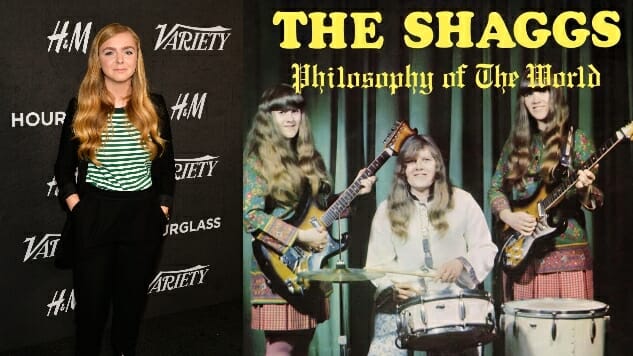 Elsie Fisher has booked her first starring role since toplining Bo Burnham's critically acclaimed indie Eighth Grade.
Fisher will star in The Shaggs, a musical feature based on the real-life story of the Wiggin sisters, per THR.
The story centers around three musically inept sisters from New Hampshire. At the will of their father, who is told at a palm reading that his daughters will be in a popular music group, the teenagers—Dorothy ("Dot"), Betty and Helen Wiggin—form a band. Their group, The Shaggs, record and release one of the most infamous rock 'n' roll albums of all time, Philosophy of the World (1968).
In real life, The Shaggs played for seven years, until the death of their father. The band made only one record, which was snubbed at the time of its release, but rediscovered in 1980. The reviews were something of a mixed bag: Rolling Stone called it "stunningly awful," Frank Zappa referred to the band as "better than the Beatles" and Kurt Cobain named the album his fifth favorite of all time.
The 1960s cult favorites recently returned to the spotlight for a special performance in June 2017 at Wilco's Solid Sound Festival in North Adams, Mass.
Ken Kwapis, whose feature credits include The Sisterhood of the Traveling Pants (2005) and He's Just Not That Into You (2009), will direct The Shaggs. The screenplay is from Joy Gregory, who had previously written a well-received off-Broadway stage musical out of the story of The Shaggs.
Fisher will also lend her voice to the forthcoming Addams Family animated feature, due out in October 2019.