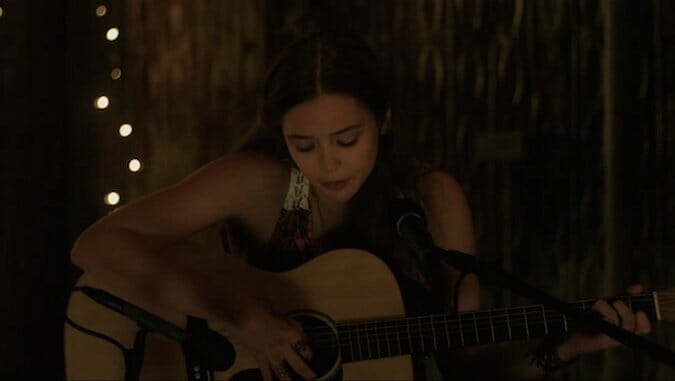 Very Good Girls opens in theaters tomorrow, but before it does, we've gotten one last clip of the film.
Pitchfork shared the clip which features Elizabeth Olsen singing a Rilo Kiley song at an awkward open mic night. It's all pretty perfect considering that former Rilo Kiley frontwoman Jenny Lewis scored the coming-of-age film. And it turns out that Olsen is pretty good, too. The song, "Go Ahead," is off Rilo Kiley's 2001 debut LP Take Offs and Landings and is an angsty number about finding love.
As Olsen croons the lines, "Or if you want to find somebody else that's better / Go ahead, go ahead," we get the sense that there's quite a bit of tension bubbling between the lifelong best friends played by Olsen and co-star Dakota Fanning, and all over Boyd Holbrook's character (Olsen's real life fiance).
Whatever it all means, we'll find out soon enough as the film will be released in theaters tomorrow, July 25. Jenny Lewis' new solo LP The Voyager will also arrive this month on July 29. Take a look at the clip above.