First Teaser for Disney's Live-Action Dumbo Hints at its Dark Side
Images courtesy of Disney
Movies
News
Dumbo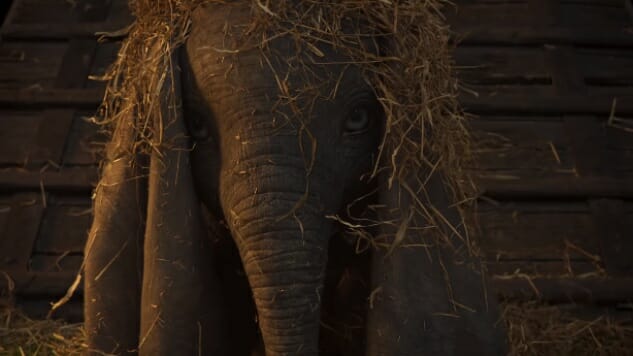 Disney is giving its classic film Dumbo new life with a forthcoming live-action version. The film takes the core of the original Dumbo story and reimagines it through the eyes of director Tim Burton. A celebration of differences both when it came out in 1941 and now, Dumbo explores how the traits that may seem to make us stand out negatively can also be some of our greatest or most influential attributes.
In the teaser trailer, we see the familiar character of Dumbo's mother and new characters such as former star Holt Farrier, as played by Colin Farrell. The film also stars Danny DeVito as the circus owner and Michael Keaton as an entrepreneur whose entertainment venture, Dreamland, is hinted to be full of dark secrets—darkness likely infused with Burton's signature stylized flair.
The teaser trailer naturally shows a brief clip of Dumbo using his ears to fly. The trailer is backed by a Dumbo original song, "Baby Mine," which was nominated for an Oscar when the animated film came out. The version featured in the trailer, however, departs from the classic, old Disney sound. Originally a bittersweet lullaby sung by Dumbo's mother (with the chorus backing vocals you find in other older Disney songs, like "When You Wish Upon a Star" and "The Second Star to the Right"), the song becomes mystical and somewhat eerie as it is inflected by the silky coolness of AURORA's voice. The bright colors and lights of the circus are chilled by the track, suggesting the dark underbelly of that world to be revealed in the film.
Dumbo comes out in March of 2019. Watch the film's first teaser and a performance by AURORA in the Paste Studio below.