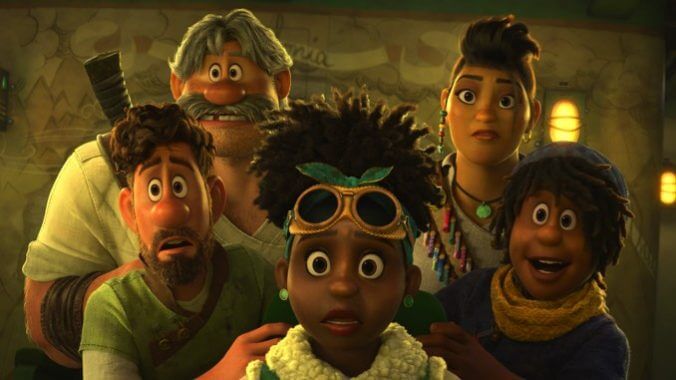 Disney+ is home to all of the entertainment giant's studios and franchises, meaning its latest releases are scattered among a variety of properties. But we're looking solely at movies here, so no Andor series and no short films like Pixar's Nona. What we do have are the latest feature-length films from Marvel, Pixar, National Geographic and even 20th Century Studios (had you forgotten Disney scooped them up, as well?). There's live-action with the emphasis on action. There's animation aplenty. And there are riveting documentaries.
Here are 10 of the newest movies streaming on Disney+:
1. Black Panther: Wakanda ForeverDisney+ Release Date: February 1, 2023 (Originally released November 11, 2022)
Director: Ryan Coogler
Stars: Letitia Wright, Lupita Nyong'o, Danai Gurira, Winston Duke, Florence Kasumba, Dominique Thorne, Michaela Coel, Tenoch Huerta, Martin Freeman, Angela Bassett
Rating: PG-13


Black Panther: Wakanda Forever boasts the same director in Ryan Coogler (and the same writing team of Coogler and Joe Robert Cole), who have again created a story whose conflicts and character arcs go deeper than the average MCU fare. Of equal importance, Wakanda Forever again features the Oscar-winning talents of Hannah Beachler (production design) and Ruth E. Carter (costume design). Wakanda remains a vividly realized Afrofuturist cityscape (even in mourning), and the MCU's newest kingdom, Talokan, though markedly less flashy than James Wan's Atlantis in Aquaman, feels as real and wondrous as a fictitious Aztec/Mayan underwater realm should. The cast is mostly the same, with Michael B. Jordan's scene-stealing antagonist Erik Killmonger replaced by Tenoch Huerta's similarly compelling and cleverly reimagined anti-hero Namor (who is much more integral to Marvel Comics—and likely the MCU—than Killmonger). But how keen the loss contained in that word—"mostly." Chadwick Boseman's portrayal of T'Challa was a magical piece of casting alchemy on par with Chris Evans' Steve Rogers. Coogler confronts the loss directly in Wakanda Forever in a beautiful opening tribute to both actor and character. T'Challa's funeral is a reminder of just how strong the cast is overall, providing Angela Bassett, Letitia Wright and Danai Gurira some grief-themed scene-chewing of their own. Where Thor: Love and Thunder felt like a lighter, sloppier version of its predecessor, Wakanda Forever feels like a well-considered, necessary next step for a franchise rocked by loss. It's a tad overstuffed—an entire sub-plot involving Everett Ross (Martin Freeman) feels more like Feige fiat to ensure certain characters and developments are sufficiently presaged—but that only serves as a reminder of the fine line between "laying groundwork" and overpacking. Despite the daunting challenge faced by Coogler and his team, Black Panther: Wakanda Forever feels like the surest step taken in the MCU since Thanos was reduced to ash. It's both an impressive achievement and a promising development, especially when considers the strong comic book connections between Namor, mutants (he is one), and a certain fantastic foursome on the MCU horizon.—Michael Burgin
---
2. Strange World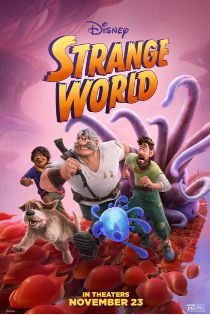 Disney+ Release Date: December 23, 2022 (Originally released November 23, 2022)
Director: Don Hall
Stars: Jake Gyllenhaal, Dennis Quaid, Jaboukie Young-White, Gabrielle Union, Lucy Liu
Genre: Animation, Adventure
Strange World, Disney's sole original animated feature of 2022, combines facets of Pixar's pair of the year's releases to a lesser effect. Looking both backwards to Lightyear's loving homage to pulp fiction and forwards to Turning Red's progressive and wholesome examination of specific family dynamics, Strange World is late to its own company's trends. It wears its more talented siblings' emotional honesty and retro homages like hand-me-downs. Like many of the flashy adventure stories it mimics, Strange World can be arresting—especially with its inventive setting and bulbous creatures—and its attempts at deconstructing the sweaty, macho-man ethos hawked by its inspiration are admirable. But with muddled themes and slight characters, remnants of the old dime magazines coordinate to bring Strange World down on the wrong side of familiar. Strange World's embrace and rejection of both tradition and modernity can be confounding, despite the undeniable beauty it finds along the way. Like the wild, untamed, interconnected world lying underneath humanity's Avalonia, there's a complexity worth tangling with lurking beneath Strange World's tired family conflict. But its desire to have its world and strange it too is irreconcilable with its top priority: Be a Disney movie. Sadly, the resulting confusion, of commentary stifled by corporate need and tradition, isn't that strange at all. —Jacob Oller
---
3. If These Walls Could Sing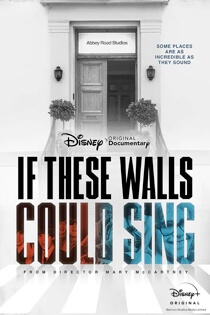 Disney+ Release Date: December 16, 2022
Director: Mary McCartney
Stars: Paul McCartney, Ringo Starr, Elton John, Roger Waters, Liam Gallagher, John Williams
Genre: Music documentary
Rating: TV-14
A lot of incredible talent has walked the halls of Abbey Road Studios (formerly EMI Recording Studios) in the span of its 91 years of existence. In the case of Mary McCartney, she actually crawled the halls as an infant as her father, Paul McCartney, recorded there in the waning days of The Beatles. Born in 1969 at the Avenue Clinic in St John's Wood, London, England, literally near the Studios, Mary was a fixture there whenever her father used the studio to record his solo projects, or her mother, Linda, took seminal photos of other rock bands in the '60s and '70s. With that kind of tangible connection to the now legendary recording facility, who better than Mary McCartney to direct a documentary about the history that has been made inside its walls going back to 1931. She followed in her mother's footsteps and is an acclaimed portrait photographer in her own right, and the director of short films and music videos for artists like Elvis Costello and Diana Krall. And after years of establishing her own career and space apart from her famous parents, the offer to direct If These Walls Could Sing felt like the right time and the right topic. —Tara Bennett
---
4. Night at the Museum: Kahmunrah Rises Again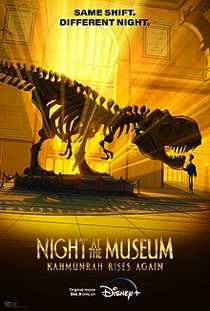 Disney+ Release Date: December 9, 2022
Director: Matt Danner
Stars: Joshua Bassett, Jamie Demetriou, Joseph Kamal, Thomas Lennon, Zachary Levi, Akmal Saleh
Genre: Animation, Adventure
Rating: PG
The Night at the Museum franchise gets its first animated entry, a follow-up to 2014's Secret of the Tomb. Joshua Bassett is the third actor to portray Nick Daley, the son of Ben Stiller's security guard Larry Daley (this time voiced by Zachary Levi). Nick is now a high-schooler working the night shift as his summer job. It's up to him—and pals like Teddy Roosevelt (Thomas Lennon), Sacagewea (Kieran Sequoia) and the dinosaur skeleton Rexy—to stop the ancient Egyptian Kamunrah from freeing an entire army of the dead.
---
5. Diary of a Wimpy Kid: Rodrick Rules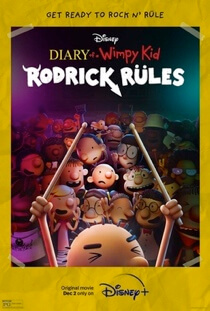 Disney+ Release Date: December 2, 2022
Director: Luke Cormican
Stars: Brady Noon, Hunter Dillon, Ethan William Childress, Chris Diamantopoulos, Erica Cerra
Genre: Animation, Comedy
Rating: PG
It's hard to believe, but this is the sixth film adapted from Jeff Kinney's Diary of a Wimpy Kid children's books—and the second adaptation of Rodrick Rules after a 2011 live-action version. The latest serves as a follow-up to 2021's first animated film in the series with most of the voice actors returning. Ed Asner voiced Grandpa Heffley in one of his final performances before his death in 2021. The "rules" in Rodrick Rules pertain to Gregg's older brother Rodrick's tricks for accomplishing things with minimal effort.;
---
6. Disenchanted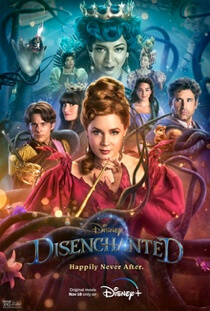 Disney+ Release Date: November 18, 2022
Director: Adam Shankman
Starring: Amy Adams, Patrick Dempsey, James Marsden, Idina Menzel, Gabriella Baldacchino, Maya Rudolph, Yvette Nicole Brown, Jayma Mays, Oscar Nunez, Griffin
Genre: Musical comedy
Rating: PG
Unlike the first act of Enchanted, the sequel Disenchanted is light on the satire of fairy tale tropes, and heavy on the fairy tale rules and aesthetics. There's still plenty of charm to go around, and it's ultimately a fun experience, but it undeniably avoids the original movie's strongest aspects in favor of sincerity. Fifteen years after the events of Enchanted, in which Giselle left behind the magical land of Andalasia for a life in New York with Robert, their family has a new baby, Sofia, in addition to Robert's now-teenage daughter Morgan (Gabriella Baldacchino). The family's New York condo suddenly feels too small to contain their growing needs. Giselle convinces Robert to move to the quaint suburb of Monroeville, where everyone struggles to adjust to their new lives. Giselle clashes with the town's queen bee Malvina (Maya Rudolph), while Morgan increasingly feels like she has no place in her family. Giselle's Andalasian ex-beau Edward (James Marsden) and Nancy (Idina Menzel), Edward's queen and Robert's ex, come to visit Giselle and Robert's new home bearing a gift for Sofia: A magic wand that will grant her every wish. After an argument with Morgan, Giselle and her chipmunk pal Pip (voiced by Griffin Newman) use the wand to try and bring some fairy tale magic to Monroeville, unwittingly causing catastrophic consequences for their world and Andalasia that must be undone before the clock strikes midnight. There's a telltale corporate scent here, as if Disenchanted was created by studio executives who didn't understand what made the original movie a winning formula. If you're willing to overlook that and enjoy a goofy bit of treacle, you'll still have a nice time. Just don't expect brilliance. —Abby Olcese.
---
7. Mickey: The Story of a Mouse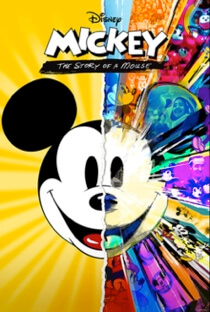 Disney+ Release Date: November 18, 2022
Director: Jeff Malmberg
Stars: Floyd Norman, Carmenita Higginbotham, Eric Goldberg, Mark Henn, Randy Haycock, Bob Iger
Genre: Historical documentary
Rating: TV-PG
In our current cultural landscape, it can be difficult to divorce the character of Mickey Mouse from the far-reaching media conglomerate that is The Walt Disney Company. The character's reedy, falsetto voice and simplistic three-circle silhouette often conjure reminders of Disney's corporate dealings: Pixar, Marvel, Lucasfilm, ESPN, 21st Century Fox, amusement parks, cruises, merchandise—everything but cartoons. Nevertheless, as Disney+'s newest documentary Mickey: The Story of a Mouse works diligently to remind us, Mickey does, in fact, have humble beginnings in animation and has evolved over the course of his nearly 100-year journey to become the icon he is today. Mickey: The Story of a Mouse starts at the very beginning of this tumultuous journey. Before the power, before the fame, when Mickey's illustrious creator was merely a "dirt poor" farm boy using a sketchbook to dream up fantasy and wonder from his modest Missouri surroundings. Mickey often teeters between documentary and advertisement in order to brazenly remind us of the character's more humble beginnings. For Disney fans, the film's insider access and easygoing themes will make it an enjoyable watch. For Disney skeptics, I suspect the overtly positive Disney-centered, Disney-made, Disney-streamed documentary can, at times, act as the perfect validation of one's skepticism. —Kathy Michelle Chacón
---
8. Hocus Pocus 2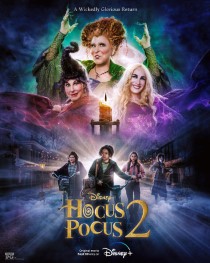 Disney+ Release Date: September 30, 2022
Director: Anne Fletcher
Stars: Bette Midler, Sarah Jessica Parker, Kathy Najimy, Sam Richardson, Doug Jones, Whitney Peak, Belissa Escobedo
Rating: PG
Runtime: 103 minutes
The good news is if you liked Hocus Pocus, you will definitely like Hocus Pocus 2…because it's basically the exact same movie except with cell phones, better special effects and a cameo from Hannah Waddingham. Imitation remains the sincerest form of flattery. The bad news is…it's the exact same movie. Hocus Pocus 2 gets a jolt of energy when the Sanderson sisters finally arrive about a half-hour into the film. Midler, Parker and Najimy are clearly having so much fun it's hard to not go along with their hijinks a little bit. All the beats of the first movie are there, including a big Halloween party where the sisters perform. "I bet you're looking for the stage," one resident asks. "Always," replies Winifred. Parker is hilarious as the daft younger sister. "I delighted in luring," she laments. "'Twas my only job." (And suffice to say by default, this is a much better sequel than Parker's And Just Like That…) —Amy Amatangelo
---
9. Pinocchio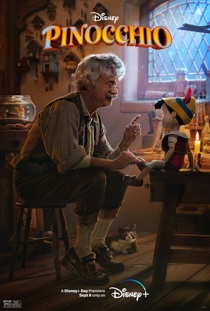 Disney+ Release Date: September 8, 2022
Director: Robert Zemeckis
Stars: Tom Hanks, Cynthia Erivo, Giuseppe Battiston, Luke Evans, Benjamin Evan Ainsworth, Joseph Gordon-Levitt, Keegan-Michael Key
Genre: Adventure
Rating: PG


Let's be real: Any contemporary adaptation of Pinocchio will come with strings attached. In the recent cavalcade of productions based on the 19th century Italian tale, none comes more entangled than Robert Zemeckis' live-action retelling of Disney's 1940 classic. Yet, by skillfully manipulating the lines of reality, Zemeckis creates a film worthy of its visual efforts, one with a mostly real purpose: To update the film for contemporary audiences. The familiar plot remains. Geppetto (Tom Hanks) is a lonely clockmaker and sometimes puppeteer who wishes for a son above all things. One magical night, the Blue Fairy (Cynthia Erivo) answers his wish and bestows the gift of life on the puppet Pinocchio. But life isn't enough. Pinocchio (voiced by Benjamin Evan Ainsworth), in his naivete, wants to be "real" for his father. Disney's 1940 original is brutal. Its menacing villains and high stakes make Pinocchio's punishments violent and threatening. This is because the morals begin posed are equally rigid and severe. Where the original feels overly didactic and moralizing, Zemeckis takes the opportunity to lighten the danger and present new visuals and ethics better suited for today's audiences. As the visionary behind Death Becomes Her, The Polar Express and, most significantly, Who Framed Roger Rabbit?, Zemeckis has become a master of blending digital animation, human performances and classic storytelling. With its complex worlds composed of humans, animate objects, talking animals and faeries, a live-action adaptation of Pinocchio requires a hybrid approach to filmmaking technology. The material seems tailor-made to Zemeckis' expertise, and he flexes those skills with gusto. The film's visual style brings the fairy tale alive with depth and texture, while its ending effectively shows that boyhood doesn't need to come as a result of corporal punishment—that magical transformation doesn't have to always be physical—and it doesn't always have to be the child's responsibility to change. Even though it may lack some nuanced darkness and some of the writing feels a little "on the nose," as Jiminy himself says, with this family-friendly picture, Zemeckis blends state-of-the-art technology with more up-to-date morals to prove Pinocchio a real and alive text. —B.L. Panther
---
10. Lightyear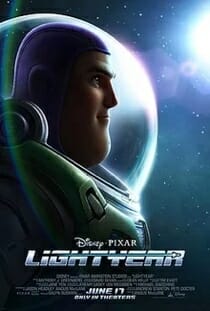 Disney+ Release date: August 3, 2022
Director: Angus MacLane
Stars: Chris Evans, Keke Palmer, Peter Sohn, James Brolin, Taika Waititi, Dale Soules, Uzo Aduba, Mary McDonald-Lewis, Efren Ramirez, Isiah Whitlock Jr.
Rating: PG


Pixar's trade is in time. Its hardest-hitting stories push kids, and the parents that take them to the movies, to consider our impermanence. To see the sand trickling down our hourglasses. Their signature bittersweetness slips through alongside the coarse grains. Lightyear teleports this surefire poignancy into a pulpy sci-fi adventure. Its strapping hero flies full speed ahead when confronting the passage of time, accelerating to an enjoyable but decidedly finite success. Opening text sets the tone and clears up the confusion of Lightyear's own IP-forward making: This is the in-universe film that served as inspiration for Toy Story's Buzz Lightyear figure. Got it? No? This time he's supposed to be a guy, made of hair and skin and bravado, instead of a toy made of plastic, electronics and bravado. Beyond that initial bit of corporate absurdity, Lightyear is, for the most part, easy to wrap your head around. It doesn't give you time to mull its meta-premise over: We crash-land straight into Star Command's Buzz (Chris Evans) and his BFF/commander Alisha Hawthorne (Uzo Aduba) exploring an uninhabitable alien world. They're vine-cutting, insect-blasting throwbacks to huckster magazine covers; Amazing Stories, Startling Stories, Thrilling Wonder Stories already supplied all the adjectives I could ever need. The 105-minute movie zips at the same clip as a flashlight-lit, under-the-covers page-turner. As Lightyear brings up both sci-fi history and the history of its own company, mining the very origins of Pixar, it sees the auteurish animation house take a new genre past the limits of homage. But the film also establishes itself as a step in an endless progression of creative collage, a historical marker built to augment its inspirations and carry them towards a future movie. Lightyear is a beautiful starship with precious genre cargo, functional and direct in its simple mission to carry on. —Jacob Oller