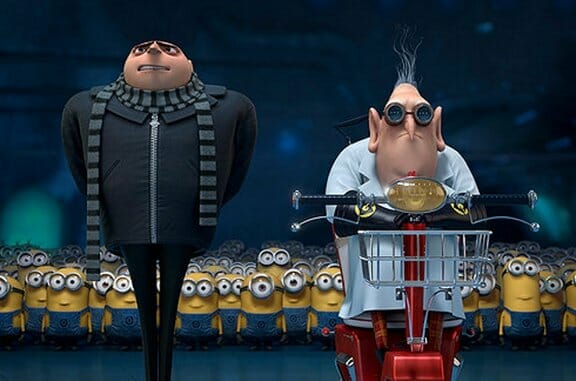 Upon its arrival in 2010, the first Despicable Me was a somewhat formulaic children's film, at times mildly inventive in dialogue and design, which sported an easily anticipated sentimental turn/message guaranteed to please parents and comfort children. (Human connection and a desire for family trumps other, more worldly—or here "moon-ly"—ambitions.) As for its formula, Despicable Me combined Bronze-age Disney (cute, precocious children and goofy sidekicks) with a dose of over-the-top sci-fun that owed less to the reality-tethered (if tenuously so) super hero science of The Incredibles than to the freed-from-physics antics of Marvin the Martian, Spy vs. Spy and Inspector Gadget. Ultimately, Despicable Me weighed in more as harmless, low-calorie animated fun than insta-classic family fare.
On the surface, Despicable Me 2 is more of the same. Former arch-villain Gru (voiced by Steve Carell) has abandoned his efforts to bring the world to its knees in favor of a task even more daunting—raising the three young girls he acquired in the first film. As for his aged henchman, Dr. Nefario (Russell Brand), and myriad minions, Gru has taken a page from 1987's Baby Boom and turned his inventiveness toward a life of jellies and jams. Fortunately for the audience (and any would-be consumers of the aforementioned jelly), Gru is soon recruited by Lucy (Kristin Wiig) on behalf of the Anti-Villain League to track down a mysterious new threat. (Think of it as an "It takes an arch-villain to catch an arch-villain" initiative.)
Hi-jinks ensue, at pretty much a comparable level of execution as found in the first film. Still, Despicable Me 2 is more fun than its predecessor. In part, this may be due to the extra lift provided it as a sequel, freed from minutes-chewing origins and introductions. Better yet, after an obligatory "Meanwhile, elsewhere…" teaser, Despicable Me 2 is able to start with, as a given, what was the payoff of Gru's character arc from the previous film—his confirmation as a sympathetic character via his overwhelming love for his children.
It's a big advantage. Despicable Me 2 establishes off the bat through Gru's efforts to provide the best birthday party ever for his youngest child, that this is not a villain prone to recidivism. If the first film was in some ways a re-imagining of Seuss, with a grinchy Gru's heart growing from two sizes too small to one too large, Despicable Me 2 continues his rehabilitation from complete societal outlier to minion-infested community fixture. Amidst the intrigue and action, it's a message that underlies and elevates the sequel—everyone, no matter how different, deserves to be loved. It's a simple, snark-free message both parents and children can appreciate.
Director: Pierre Coffin, Chris Renaud
Writer: Ken Daurio, Cinco Paul
Starring: Steve Carell, Kristen Wiig, Benjamin Bratt, Miranda Cosgrove, Russell Brand
Release Date: July 3, 2013