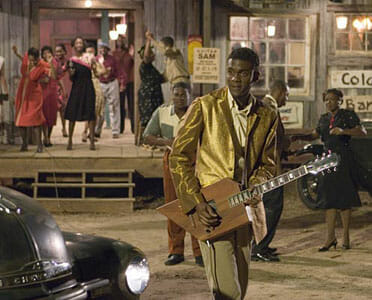 Director: John Sayles
Writer: John Sayles
Cinematographer: Dick Pope
Starring: Danny Glover, Charles S. Dutton, Stacy Keach, Lisa Gay Hamilton, Gary Clark Jr., Yaya DaCosta
Studio/Running Time: Emerging Pictures, 123 mins.
"I want you to bring along your rockin' shoes
Cause tonight I'm gonna rock away all our blues
I heard the news, there's good rockin' tonight."
-Roy Brown "Good Rockin' Tonight"
Take a bigoted white sheriff (Stacy Keach) who is at odds with an independent minded black man (Danny Glover), put them in a small town in 1950s Alabama with the ironic name of Harmony, and you might expect some dramatic conflict. But Honeydripper turns out to be quite tame. The film makes up for it, however, with some fascinating characters and brief insights into the transition from southern blues music to early rock 'n' roll.
Glover plays Tyrone "Pine Top" Purvis, proprietor of the failing Honeydripper Lounge. Pine Top makes one last stand by hiring popular recording artist Guitar Sam in hopes of packing the house and saving the club. While making preparations, a drifter named Sonny (real life blues guitarist and singer Gary Clark Jr.) shows up with a guitar but is intercepted by the sheriff and railroaded into picking cotton to pay off a trumped-up charge of vagrancy.
Writer/director John Sayles, who penned two of the pioneering independent films—Passion Fish and Lone Star—of the nineties, shows his adept eye for colorful characterization in Honeydripper, and the performances from his outstanding cast are what make the film so engaging. Clark's screen debut is especially impressive considering that he doesn't truly show his prowess as an entertainer until the end of the film. And Yaya DaCosta, who plays Tyrone's daughter China Doll, is absolutely charming. In another brilliant casting decision, the great bluesman Keb' Mo' appears periodically as a blind, slide guitar playing ghost who offers up advice to Tyrone and Sonny.
Unfortunately, every time a potentially volatile scene gives this great cast an opportunity to let loose, Sayles' script reins them in. The relationship between Tyrone and the sheriff, for example, could have exploded into a period representation of Southern racism. Instead, Sayles chooses to play down the bigotry, giving the sheriff more bark than bite. At times, the film feels more like a movie of the week. In fact, it would make an interesting series, picking up where the acclaimed I'll Fly Away left off. But in spite of its harnessed drawbacks, the character-driven Honeydripper is a sweet little treat.