Christopher Plummer Becomes Oldest Actor to Receive Oscar Nomination
Photos by Jason Merritt/Getty, Theo Wargo/Getty
Movies
News
Christopher Plummer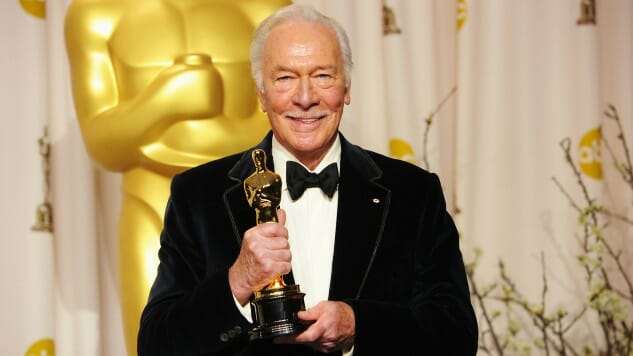 It's been a very historic day for the Academy of Motion Pictures Arts and Sciences with the unveiling of their 90th nominations this morning. Besides the major strides for female filmmakers, which you can read about here, many other firsts have been achieved. Perhaps one of the most significant is Christopher Plummer becoming the oldest acting nominee ever at the ripe old age of 88. The record for the oldest Oscar nominee of all time was also set this year, but in the Adapted Screenplay category, with Call Me By Your Name's James Ivory landing a nomination at the age of 90.
Plummer's nomination for All the Money in the World comes as a true testament to the actor's undeniable talent. Plummer replaced Kevin Spacey as J. Paul Getty after director Ridley Scott decided to reshoot and recast all the scenes with Spacey after the actor's alleged history of sexual harassment came to light. The All the Money in the World reshoots were completed in just ten days and required both Mark Wahlberg and Michelle Williams to participate (more on that here). They began in November, shooting through the Thanksgiving holiday and still managing to complete the film for its December release.
Plummer, in a statement responding to his Oscar nomination this morning, said:
I am absolutely thrilled to have received this nomination by the Academy. It was quite unexpected but incredibly gratifying. Everything has happened so quickly of late that I am still a trifled stunned but excited by it all.
Plummer's nomination surpassed previous oldest acting nominee Gloria Stuart from Titanic—Stuart was a mere 87 years young when she was nominated. The nomination is Plummer's third, with his first being for the 2010 film The Last Station, in which he played Russian novelist Leo Tolstoy opposite Helen Mirren, whom also received a nomination. Plummer then won Best Supporting Actor for his role in the 2011 film Beginners, in which he played a terminally ill man who comes out to his son.
Could Plummer win his second Oscar in 2018? It seems unlikely, since this season has been dominated by Three Billboard Outside Ebbing, Missouri's Sam Rockwell, but the Oscars have been known for the occasional surprise winner, like when Sylvester Stallone, nominated for his performance in the 2015 film Creed, lost to Mark Rylance in Bridge of Spies after Stallone had won the Golden Globe and Critics Choice awards. Plummer is up against both Woody Harrelson and Sam Rockwell for Three Billboards, Willem Dafoe for The Florida Project and Richard Jenkins for The Shape of Water.
The winners will be announced on March 4. See the complete list of nominees here.